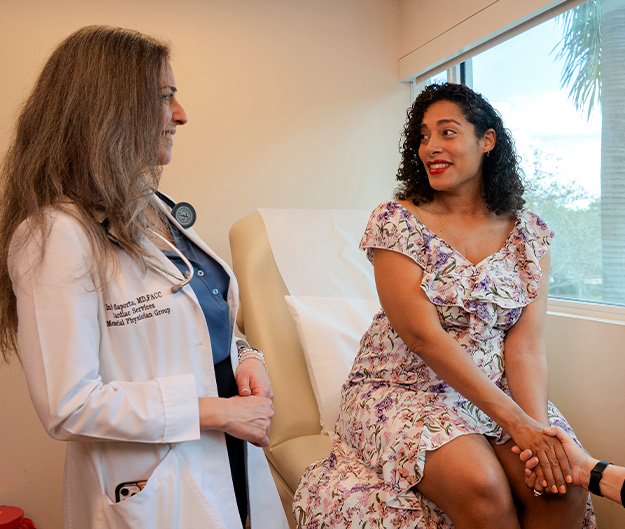 Women's Heart Program
We offer comprehensive heart health screenings for women, along with personalized plans for reducing women's risk of heart attack and stroke.
Explore Our Women's Heart Health Services
Regardless of age or gender, maintaining heart health is important, but did you know that women are particularly at risk of heart disease?

Women face specific concerns around cardiovascular health, especially as they age. More women die from heart disease than any other condition. Because many women are unaware that their risk factor is so high, it's common for them to not even know about the importance of regular cardiovascular check-ups.
According to the American Heart Association, heart disease and stroke affect about 44 million women in the United States. In fact, cardiovascular disease kills one woman every 80 seconds and accounts for one in three women's deaths each year.
Because many women are unaware that their risk factor is so high, it's common for them to not even know about the importance of regular cardiovascular check-ups.
Why should women get heart screenings?
A woman's heart screening can detect signs of heart disease, allowing patients to work with their doctors to help them avoid more serious health issues related to their condition.
Monitoring heart health is particularly important for women because of:
Risk Factors
Women have a higher lifetime risk of stroke than men. About 90 percent of women have one or more risk factors for heart disease or stroke.
Heart Attacks
Women are less likely than men to survive their first heart attack. Women's heart attack symptoms can be different than men's, so it is important for women to understand their symptoms.
Prevention
Education and lifestyle changes can dramatically decrease a women's likelihood of developing heart disease or having a stroke by 80 percent.
Heart disease can affect women of all ages. Because of their high risk of heart disease, it is recommended that women over the age of 40 begin getting regular heart screenings.
For women who have a history of heart conditions in their family, or who had signs of a heart condition at birth, regular heart screenings should be integrated into their medical care plan.

Women's Heart Health – Important Heart Symptoms
What is microvascular disease?
Microvascular disease affects the heart's tiny arteries, which are more difficult to see by traditional screening. It is far more common in women than men. Traditional screening techniques usually fail to detect microvascular disease because it occurs in the heart's tiny arteries, which are more difficult to see.
A common symptom of microvascular disease is chest pain. At Memorial, we are working to diagnose and treat women who have this type of chest pain and two of our cardiologists are currently studying how this disease can affect heart attack risk.
How can women reduce their risk of heart disease?
To lower your chances of getting heart disease, it's important to do the following:
Know your blood pressure. Having uncontrolled blood pressure can lead to heart disease. High blood pressure has no symptoms, so it's important to have your blood pressure checked regularly.
Talk to your doctor or health care team about whether you should be tested for diabetes. Having uncontrolled diabetes raises your risk of heart disease. Learn more about diabetes.
Quit smoking. If you don't smoke, don't start. If you do smoke, learn ways to quit with Tobacco Free Florida Quit Your Way program or NSU Florida's Healthy Lifestyles Guided Self-Change Program.
Discuss checking your blood cholesterol and triglycerides with your doctor. High LDL (low-density lipoprotein) cholesterol is a key risk factor for heart disease.
Make healthy food choices. Being overweight or obesity raises your risk of heart disease.
Limit how much alcohol you drink to one drink a day.
Manage stress levels by finding healthy ways to cope with stress.
If you are at risk, we can help you develop a plan that includes lifestyle changes including diet, exercise habits and stress reduction that can help reduce that risk dramatically.
Sometimes heart disease is linked to other conditions and requires collaboration with other specialists to monitor, treat and together provide high-quality care to women with heart conditions.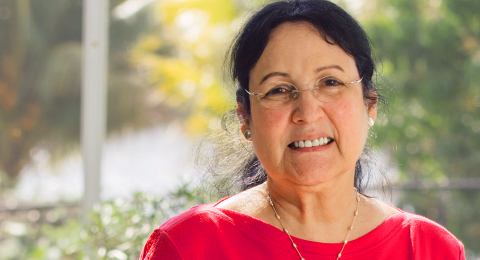 Vivian and Memorial, Partners for Her Heart Health
When Vivian experienced sudden, severe pain across her back and lost her arm strength, her Memorial cardiologist, Kashmira Bhadha, MD, medical director, women's heart health, treated her microvascular angina and cared for her at Memorial Cardiac and Vascular Institute.
It matters to you. It matters to us.
Quality and Safety Data for Memorial Healthcare System
Our goal is to provide our patients with the information they need to make informed choices for themselves and their families.
View Quality and Safety
You have a right to know about pricing
We want to give you the information you need to make important healthcare decisions, including the costs of our cardiac services.
View Pricing