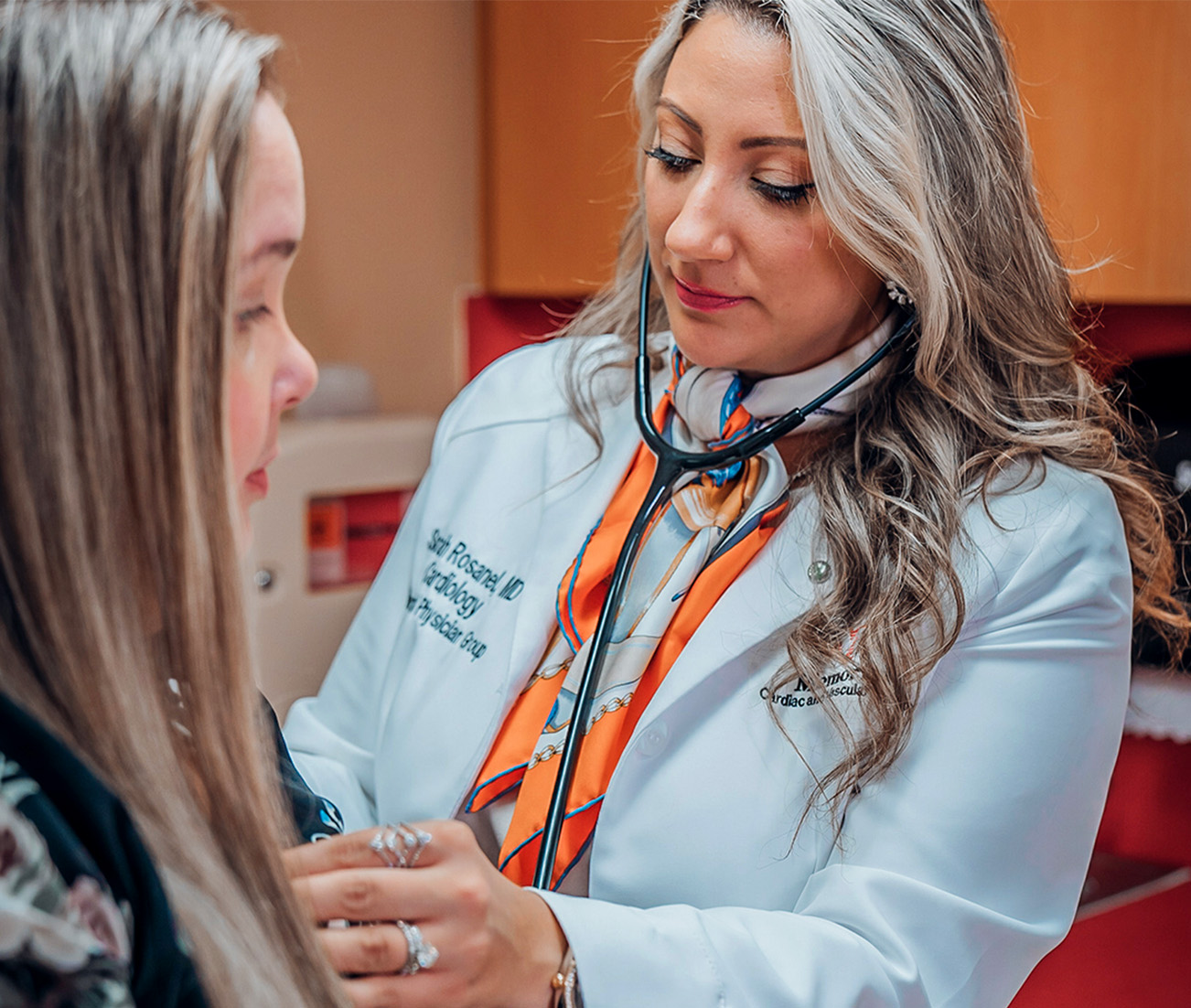 Cardiology
The cardiologists at Memorial Cardiac and Vascular Institute can help evaluate and manage your heart health. Make an appointment online or call us.
The cardiologists at Memorial Cardiac and Vascular Institute offer a coordinated, proactive approach to heart care.

Whether you have cardiac symptoms, had a heart attack or other cardiac event, or are at risk for heart disease, our cardiologists have the expertise to help.

We offer comprehensive diagnostic tests and advanced treatments for common to complex heart conditions.
What Are Cardiology Services?
Seeing a cardiologist is an important first step when you have a potential heart problem. Your cardiologist often serves as your primary heart doctor, coordinating care with your primary care physician and other heart specialists to address all your cardiac needs.
Our cardiologists:
Assess heart disease risk factors
Diagnose heart conditions
Offer treatments to improve heart function
Provide preventive care to lower the risk of heart disease and related complications

Why Choose Memorial for Cardiology Services?
When you come to Memorial Cardiac and Vascular Institute, you receive care from fellowship-trained, board-certified cardiologists you can trust.
The cardiology program at Memorial offers:
Team approach: Our TotalHeart approach to care means you benefit from a team of heart specialists working together to improve your heart health. Our cardiologists tap the expertise of electrophysiologists, heart surgeons, interventional cardiologists and other doctors who specialize in uncommon heart conditions and treatments.
Care for multiple conditions: Health conditions like diabetes, lung disease, chronic kidney disease, sleep apnea and rheumatoid arthritis can affect your heart. When appropriate, our cardiologists partner with other specialists to provide complete care for coexisting medical conditions.
Heart disease prevention: Our cardiologists offer preventive care services to protect your heart and lower your chances of developing life-threatening heart problems. After assessing your risk factors, we customize a plan and offer supportive services to help you succeed in leading a heart-healthy lifestyle.
Advanced heart imaging: Imaging cardiologists at our Cardiovascular Diagnostic Center have the highest level of training in heart imaging. Combined with the most advanced heart imaging technology available, this expertise helps our cardiologists expertly identify complex heart issues.
Comprehensive treatments: Whether you have a common heart condition or a rare, complex one, our cardiology team has access to a full spectrum of heart and vascular treatments. These treatments range from minimally invasive cardiac catheterizations and angioplasty to more complex open-chest heart surgeries and heart transplants. Our team also ensures you receive cardiac and pulmonary rehabilitation when appropriate.
Specialty Cardiology Services
As a regional leader in heart and vascular care, we offer specialized cardiology services, including:
Women's Heart Care
Women have unique risk factors for heart disease. They also experience cardiac events like heart attacks differently than men. We designed our women's heart care services to meet the distinct needs of women who have, or are at risk for, heart problems. Our women's heart services also include:
Cardio-obstetrics: Our cardiologists partner with maternal-fetal medicine (MFM) doctors to help women experiencing cardiac-related, high-risk pregnancies.
Chest pain clinic: Our advanced screenings help detect microvascular disease, a common, but often overlooked, cause of chest pain in women.
Cardio-Oncology
People with cancer can develop heart problems during or after cancer treatments. As part of our cardio-oncology services, our cardiologists partner with doctors at Memorial Cancer Institute. These specialists work together to prevent, and sometimes reverse, cancer-related heart damage.
The team carefully monitors your heart health throughout cancer treatments to quickly identify potential problems and promote a heart-healthy, cancer-free future.
It matters to you. It matters to us.
Quality and Safety Data for Memorial Healthcare System
Our goal is to provide our patients with the information they need to make informed choices for themselves and their families.
View Quality and Safety
You have a right to know about pricing
We want to give you the information you need to make important healthcare decisions, including the costs of our cardiac services.
View Pricing