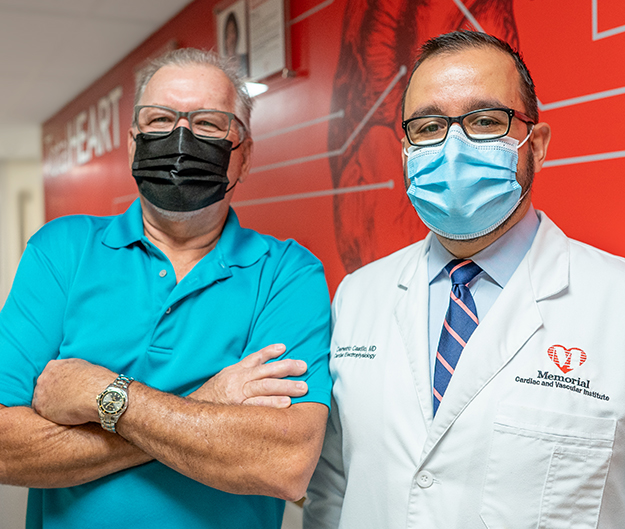 Cardiac Ablation
We are a high-volume center for performing cardiac ablation. We offer radiofrequency ablation, cryoablation and the latest imaging techniques.
Cardiac ablation, or catheter ablation, is a minimally invasive procedure to treat arrhythmias such as atrial fibrillation.
Memorial Cardiac and Vascular Institute's large team of electrophysiologists (doctors who specialize in treating heart rhythm disorders) has extensive expertise in cardiac ablation procedures. We are a high-volume center for performing ablation, with patients who range in age and in their condition's severity. We aim to have you in and out of the electrophysiology lab as quickly as possible, so you can get back to doing the things you enjoy.
What Is Cardiac Ablation?
Our electrophysiologists (EPs) use cardiac ablation to safely destroy the small area of heart tissue causing the abnormal heart rhythm. We may use either radiofrequency ablation (heat) or cryoablation (cold). The type of ablation procedure depends on the type of arrhythmia and your individual risk factors.
A minimally invasive procedure, cardiac ablation involves anesthesia and a short recovery. In general, ablation has a high success rate – about 95 percent – for treating tachycardia (arrhythmias where the heart beats too quickly). For many people, one ablation procedure cures the arrhythmia.
Learn more about arrhythmia.
Why Choose Memorial for Cardiac Ablation?
When it comes to cardiac ablation procedures, we offer:
Multiple ways to ablate: We provide individualized patient care, performing both cryoablation and radiofrequency ablation. Offering the newer cryoablation technology helps us reduce the risks for certain patients.
Treatment for atrial fibrillation: Atrial fibrillation (A-fib) is the most common type of serious arrhythmia. It can cause heart attack and stroke. We can successfully treat A-fib with ablation therapy.
Advanced techniques: We have some of the most technologically advanced electrophysiology labs in South Florida. These labs are fully equipped with leading-edge imaging equipment. For example, we use 3-D mapping with contact force technology. With 3-D mapping, we have a more precise view of the heart. Contact force technology helps us determine how much force to use during ablation. Both of these technologies reduce patient risk.
Fluoroless Ablation: Ablations have been traditionally performed with the use of fluoroscopy, visualization using X-ray images, exposing patients to the potentially damaging effects of radiation. At Memorial, we developed our own technique to perform a fluoroless ablation without using X-ray to navigate inside of the heart, using ultrasound and 3D mapping.
Same Day Discharge: Most patients are discharged the same day, allowing patients a more comfortable experience.
Treatment for entire families: Certain types of arrhythmias run in families. Through our partnership with EPs at Joe DiMaggio Children's Hospital, we also treat children with arrhythmias. You can keep all of your family's care within Memorial Healthcare System.

What Should I Expect During Cardiac Ablation?
We perform ablations in our electrophysiology lab. Ablations generally take two to three hours to complete. During the procedure:
You will get an IV in your arm for anesthesia. A nurse may also give you a sedative, which is a medicine that helps you relax. You will remain awake the whole time.
You will get a shot to numb the puncture site (usually the groin). Once you are numb, the doctor will insert a catheter (a thin, hollow tube) and guide it through your blood vessel, to your heart. You may feel a little pressure but shouldn't feel pain. We use imaging technology to view the catheter's position.
We send energy (heat or cold) through the catheter to target the tissue causing the arrhythmia. You will not feel anything. It is not an electric shock.
You will spend a few hours in a recovery room. You may go home the same day or spend the night. We will give you specific discharge and follow-up instructions.
It matters to you. It matters to us.
Quality and Safety Data for Memorial Healthcare System
Our goal is to provide our patients with the information they need to make informed choices for themselves and their families.
View Quality and Safety
You have a right to know about pricing
We want to give you the information you need to make important healthcare decisions, including the costs of our cardiac services.
View Pricing