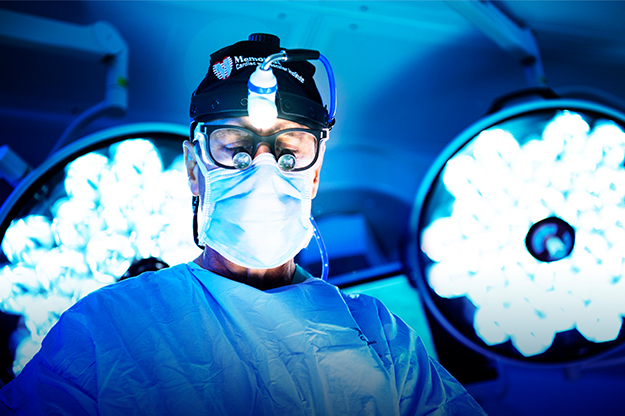 Heart Surgery
We have a 3-star rating from the Society of Thoracic Surgeons for heart surgery outcomes, with cardiac surgeons skilled in a variety of procedures, including heart transplant.
Explore Our Heart Surgery Services
From advanced heart surgeries to more routine cardiac procedures, Memorial Cardiac and Vascular Institute's cardiac surgery specialists treats a wide range of patients, including those who need a heart transplant.
When Is Heart Surgery Necessary?
Interventional cardiologists can do many nonsurgical procedures via cardiac catheterization. The technology and capability for these treatments are better than ever.
However, sometimes heart surgery is still the best option for certain patients. We look at each person as an individual to determine the best treatment path.
For example, some patients with heart valve disease will need heart valve replacement surgery. For other patients, we may recommend a less-invasive procedure to replace the heart valve. Every decision is a team decision, based on what we know (the evidence), your condition and risk factors.

Why Choose Memorial for Cardiac Surgery?
We are a community hospital with a strong heart surgery program. That means we are able to treat a wide variety of heart conditions. Our program offers:
Recognized excellence: Memorial Cardiac and Vascular Institute has earned a distinguished three-star rating from The Society of Thoracic Surgeons (STS) for our patient care and outcomes in isolated coronary artery bypass grafting (CABG) procedures, isolated mitral valve replacement and repair (MVRR) surgery, and MVRR+CABG in the latest analysis of data for the period ending December 2021. Additionally, for the reporting period ending September 21, 2021, we earned the highest STS 3-star rating for transcatheter aortic valve replacement (TAVR), with 93% of our eligible TAVR patients experiencing no major complications (death, stroke, bleeding, AKI, PVL), beating out the national average of 90%. The three-star rating, which denotes the highest category of quality, is one of the most sophisticated and highly regarded overall measures of quality in health care, and places Memorial among the elite for cardiac surgery in the United States and Canada.
Surgical experience: Memorial's board-certified heart surgeons bring years of experience performing a range of surgeries. The greater the variety of procedures surgeons do, the more prepared they are to deal with unexpected situations in surgery. Memorial ranks among the nation's best in heart surgery, achieving high ratings for over 10 years in a row for cardiac surgery quality and care from the highly regarded Society of Thoracic Surgeons.
Continuum of care: When patients come out of surgery, they need around-the-clock, intensive care. Cardiac intensivists provide this 24/7 monitoring in our cardiovascular intensive care unit (CVICU). Intensivists are doctors with specialized training in providing intensive care, personalized to the needs of heart and vascular patients
Full range of surgeries, including heart transplant: Our TotalHeart approach means that we can treat the full range of heart conditions with advanced therapies including heart transplant. That expertise means Memorial is the one place to go for your heart care. Through our partnership with pediatric cardiac surgeons at Joe DiMaggio Children's Hospital, we can treat newborns to adults
It matters to you. It matters to us.
Quality and Safety Data for Memorial Healthcare System
Our goal is to provide our patients with the information they need to make informed choices for themselves and their families.
View Quality and Safety
You have a right to know about pricing
We want to give you the information you need to make important healthcare decisions, including the costs of our cardiac services.
View Pricing