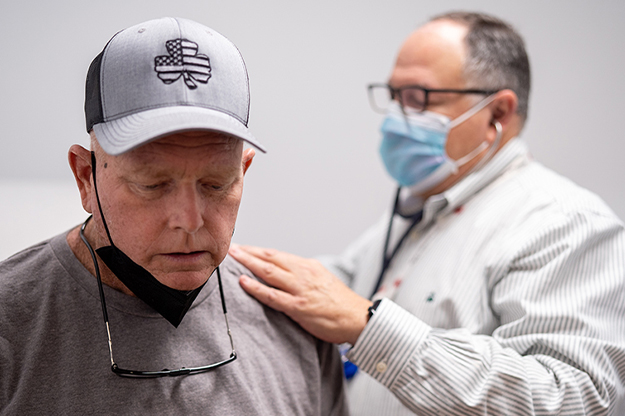 Bone Marrow Transplant
Bone marrow transplant is often effective against blood cancers and other blood disorders.
A bone marrow transplant can be effective against blood cancers and other blood disorders. But it's a complex process and lengthy recovery. If you're considering this treatment option, you need a team of specialists to guide you on your journey.
Bone Marrow Transplant: Why Choose Memorial Cancer Institute?
When you come to Memorial for a bone marrow transplant, you'll find:
Cancer experts: Our board-certified hematologists and oncologists have special training and extensive experience performing bone marrow transplants. Our team carefully prepares you before the procedure and monitors you after transplantation to ensure your readiness and safety.
Powerful partnership: Memorial partners with Moffitt Cancer Center so that a team of Moffitt doctors and advanced practice providers deliver the highest quality of care here at Memorial. The transplant process can take several weeks to months. This partnership allows you to receive treatment closer to family and friends when you need them most.
National recognition: Memorial Cancer Institute is a Transplant Center of Excellence for Cellular Therapy as designated by the National Marrow Donor Program®. We're also a Blue Distinction Center with Blue Cross Blue Shield. These credentials set standards for quality and safety, so you know you are in good hands. In addition, Moffitt Caner Center is accredited by the Foundation for the Accreditation of Cellular Therapy (FACT).
Holistic treatment: We believe in the power of integrative medicine to achieve the best treatment outcomes and improve your overall well-being. We take a holistic approach to cancer care that addresses your physical, emotional, mental, social and spiritual needs.
Clinical trials: Memorial Cancer Institute participates in clinical trials to continuously improve transplantation processes and outcomes.

Bone Marrow and Stem Cell Transplants
What Is a Bone Marrow Transplant?
Blood stem cells eventually become cells that make up your blood: red blood cells, white blood cells and platelets. Blood stem cells are located in bone marrow, the soft tissue in the middle of your bones.
A bone marrow transplant is not surgery like an organ transplant. It's a specialized procedure that replaces abnormal blood cells with healthy cells. It's also called a hematopoietic stem cell transplant. An autologous transplant uses your own cells, while an allogeneic transplant uses cells from a donor.
A bone marrow transplant can treat many blood cancers, including:
Acute myeloid leukemia
Myelodysplastic syndrome
Multiple myeloma
Non-Hodgkin lymphoma
Hodgkin lymphoma
Acute lymphoblastic leukemia
Chronic lymphocytic leukemia
Chronic myelogenous leukemia
The Bone Marrow Transplant Journey
The transplant journey is different for everyone. Your Memorial team helps guide you through:
Determining whether a transplant is right for you and which type is appropriate
Planning the complex transplant process and timeline, including pre-transplant chemotherapy and radiation treatments
Collecting your cells or finding a donor
Infusing the cells into your bloodstream
Taking precautions to prevent infections and donor cell rejection
Identifying side effects early and intervening, including teaching you and your loved ones what to look for
Performing tests such as bloodwork to assess whether you have achieved remission or cure
Supporting you and your caregiver through long-term recovery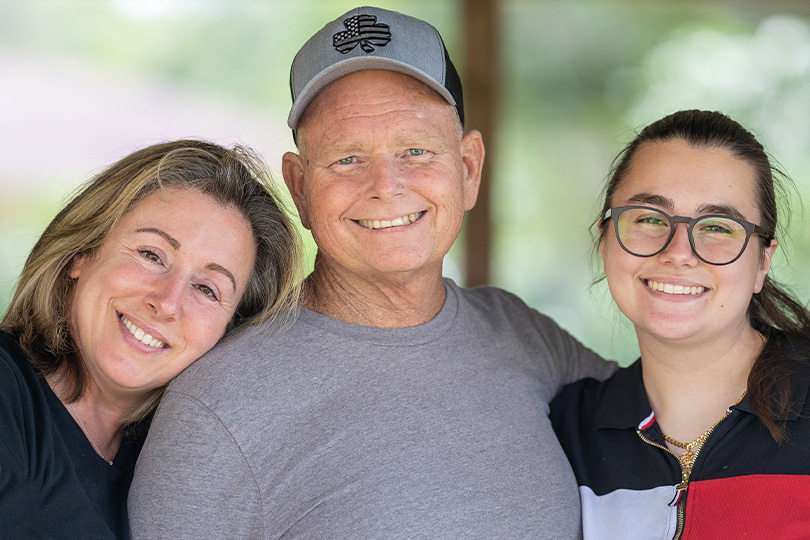 Bone Marrow Helps Richard
When Richard experienced a leukemia relapse, bone marrow from his daughter Holly played a significant role in his recovery.