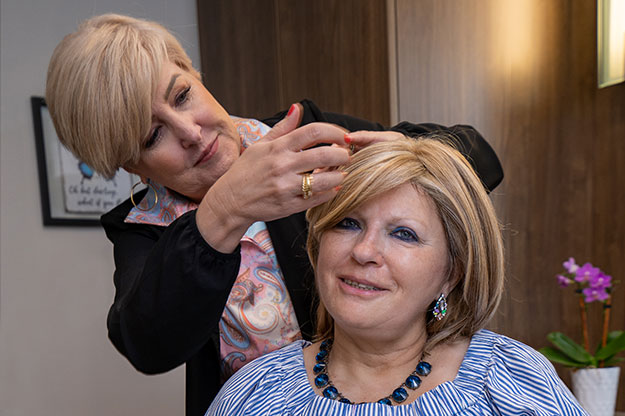 Center for Body, Mind and Spirit
A place to renew your self-esteem and regain a more positive body image
Cancer and cancer treatment can change your body in unexpected — and unwelcome — ways. These changes may leave you feeling self-conscious and less confident. The Center for Body, Mind and Spirit at Memorial Cancer Institute provides the care you need to feel like yourself again.
Services for People with Cancer
The caring and compassionate team of experts at our Center for Body, Mind and Spirit understands that your appearance can affect your quality of life during cancer treatment. We're here to help you look and feel your best throughout treatment and beyond.
Our cancer boutique is accredited by the American Board of Certification (ABC) in Orthotics and Prosthetics, so you can trust that you are receiving professional care. Our compassionate team includes ABC-certified mastectomy fitters and certified lymphedema-garment fitters.
Personalized consultations
When you come to us, we'll provide personalized, private consultations and fittings for:
• Post-mastectomy bras
• Breast prosthetics
• Lymphedema compression garments
• Wigs
Boutique for Specialty Cancer Products
Your skin, hair, eyebrows and lashes may need a little TLC during your treatment. In particular, skin care during cancer treatment needs to be gentle but effective. We offer a variety of organic and all-natural products that are safe for your skin and can help ease the side effects of radiation therapy.
Our knowledgeable staff can help you select the best products for your needs. Our selection includes:
Eyebrow and eyelash gel to help maintain your brows and lashes during treatment
Skin care products to soothe skin irritated by radiation therapy
Organic shampoos, conditioners and deodorants
All-natural hair, nail and skin products
Scarves, hats and partial head coverings
Essential oils and aromatherapy products
You're welcome to shop our boutique Monday–Friday, 8:30 am–5 pm.
Spa Services
We've created a soothing, spa-like environment where you can relax and rejuvenate. Caring for yourself throughout cancer treatment is important for healing your body and mind. Escape to our spa for services such as:
Massage therapy (with practitioners certified in oncology massage)
Lymphatic massage (with practitioners certified in lymphatic drainage massage)
Medical manicures and pedicures
Aromatherapy treatments
Location and Hours
Memorial Hospital West
Medical Office Building
601 N. Flamingo Rd., Suite 400
Pembroke Pines, FL 33028
Monday–Friday, 8:30 am–5 pm
We offer free valet service at the Medical Office Building (MOB) entrance, or you can park in the visitors' garage next to the MOB entrance.