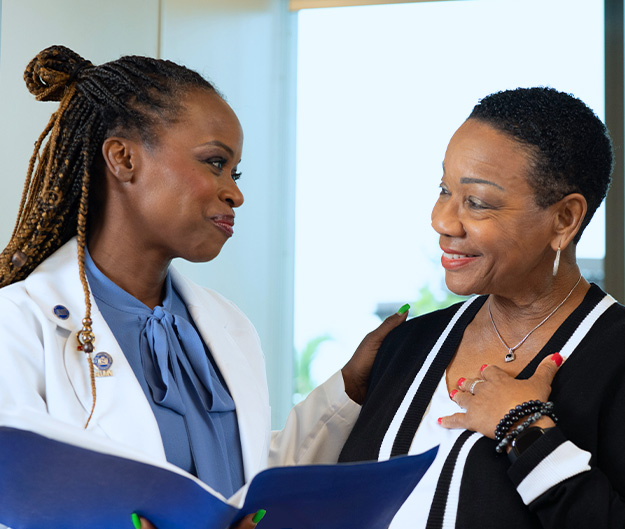 Leukemia Lymphoma and Multiple Myeloma
We offer advanced diagnosis and treatment for leukemia, lymphoma and multiple myeloma.
Facing blood cancer can be scary and confusing. There are many types of blood cancers but also many effective treatments. With the right plan, it's often possible to reach remission, achieve a cure and live a full life.
Diagnosing Blood Cancer
We can identify and treat every type of leukemia, lymphoma and multiple myeloma. The type of blood cancer you have guides our treatment decisions and helps you understand potential outcomes.
Leukemia: Leukemia starts in tissues and cells that make blood. We have subspecialists to treat each type of leukemia, including acute lymphoblastic leukemia (ALL), acute myeloid leukemia (AML), chronic lymphocytic leukemia (CLL) and chronic myeloid leukemia (CML).
Lymphoma: Lymphoma starts in the lymphatic system. Our lymphoma experts have extensive experience treating both Hodgkin lymphoma and non-Hodgkin lymphoma. Multiple myeloma:
Multiple myeloma: Multiple myeloma starts in blood cells called plasma cells.
Memorial uses a variety of tests to diagnose leukemia, lymphoma and multiple myeloma. A team of specialists interprets the results, so you have detailed information moving forward
Testing may include:
Blood tests: These tests measure blood cells, hemoglobin, proteins and other substances in your blood. The results can help identify the type of blood cancer and detect any irregularities in your organ function.
Biopsy: We take a small sample of bone marrow, tissue or blood and examine it under a microscope. Our pathologists can determine whether the cells are abnormal and what it means for you.
Imaging tests: We use advanced imaging tests to take pictures of internal structures. These tests can help determine whether you have groups of abnormal cells or if cancer has affected your bones or organs. Examples include MRI, CT scan and positron emission tomography (PET) scan.
Based on test results, we explain the stage of disease, which can determine the types of therapies you need. Your team then develops a detailed, individualized treatment plan.

Richard's Leukemia Story
Blood Cancer Treatment
Together, Memorial Cancer Institute and Moffitt Cancer Center at Memorial Healthcare System offer every type of treatment for leukemia, lymphoma and multiple myeloma. The treatments can destroy or replace cancer cells, but they can have serious side effects. Your team calculates the types and doses of drugs, then monitors you carefully. Our goal is to maximize treatment effectiveness while minimizing side effects.

Your treatment plan might include:
Bi-specific T-cell engagement therapy: This therapy, also called BITES, activates the immune system to attack and destroy cancer cells.
Bone marrow transplant: We use special procedures to replace abnormal stem cells and blood cells with healthy ones. A bone marrow transplant is a type of cellular therapy. You may be able to use your own cells, or you may need to receive cells from a donor.
Chemotherapy: Chemotherapy uses drugs circulated in your bloodstream to destroy cancer cells.
Immunotherapy: These innovative treatment options use your immune system to attack cancer cells. We offer chimeric antigen receptor (CAR) T-cell therapy, an advanced type of immunotherapy available only at select cancer centers.
Radiation therapy: Radiation beams can destroy cancer cells in your blood or relieve pain from advanced disease.
Targeted therapy: This approach destroys blood cancer cells or slows their growth by attacking specific proteins on their surface. This can stop the cancer cells from growing or dividing.
Blood cancer treatment can be very effective, but it's also complex. Our team guides you through the process and ensures you understand:
Your diagnosis and stage
Your treatment options
The risks and benefits of every option
What to expect from treatment
Chances of remission and cure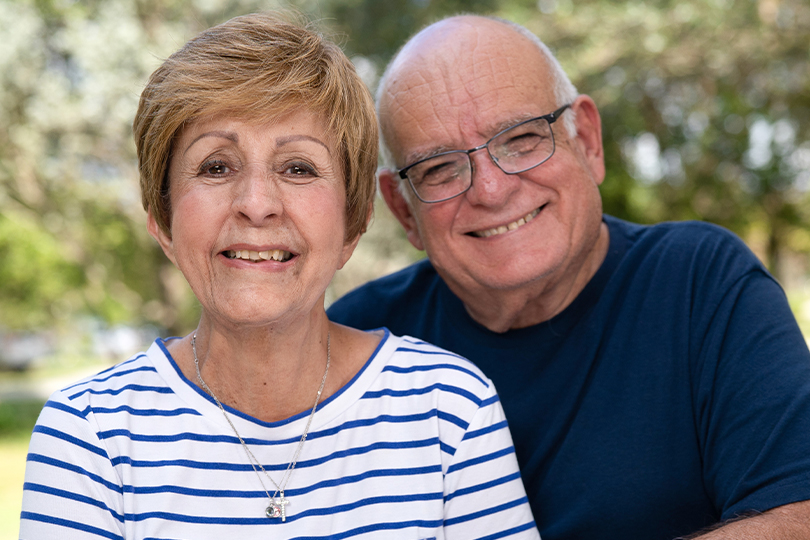 Leticia's Care Journey
Leticia Traveled 3,000 miles for CAR T-cell immunotherapy at Memorial. She returned from Las Vegas to the specialists she trusts with her lymphoma.
Blood Cancer Care: Why Choose Memorial Cancer Institute?
When you come to Memorial for blood cancer diagnosis and treatment, you'll find:
Team approach to cancer care: You receive care from an entire team of experts, including board-certified, fellowship-trained hematologists, oncology nurses, pathologists, radiation oncologists and pain management experts. Thanks to our partnership with Moffit Cancer Center, we have a team of Moffit doctors and advanced practice providers who provide the best therapies in the world here at Memorial. Meet our team.
Care for the whole person: The cancer journey can be overwhelming and take a toll on your overall health and mental health. Your team includes a variety of people who can help you stay strong along the way. Your team may include integrative medicine specialists, psychologists, social workers, nutritionists and other support staff.
Trusted experts: Our hematologists are specially trained and have extensive experience treating blood cancers. Many subspecialize in leukemia, lymphoma or multiple myeloma, meaning they have focused expertise.
Advanced diagnostic and treatment technology: We have access to the latest technology to ensure you receive a precise diagnosis. This gives you the best chances of remission and being cured.
Clinical research: We conduct clinical trials for some of the most advanced blood cancer therapies. This allows our patients to access advanced treatment options not available everywhere.