Bronchiectasis
Our pulmonologists specialize in comprehensive bronchiectasis treatment to help you manage chronic infections and symptoms.
Bronchiectasis occurs when chronic infection or inflammation permanently damages the airways, also called bronchi. The airways widen abnormally, and their walls thicken, which permits mucus to build up. The mucus then makes you prone to more infections, inflammation, and symptom flare-ups.
This vicious cycle makes bronchiectasis a complicated condition that needs to be managed by a specialist. Our pulmonology specialists can provide treatments to break up mucus, improve your symptoms and prevent infections so you can breathe better.

Bronchiectasis: Why Choose Memorial Healthcare System?
Patients seeking treatment for bronchiectasis at Memorial Healthcare System will find:
Experienced physicians: Our pulmonology team includes highly skilled, board-certified physicians who have decades of experience and specialize in diagnosing and treating bronchiectasis.
Advanced diagnostic tools on-site: Our doctors are equipped with the leading methods to confirm bronchiectasis. All of the tests are available on-site, for quick and accurate care close to home.
Comprehensive treatment: Patients with bronchiectasis often need a wide variety of treatments. Our team specializes in developing thorough, multifaceted care plans for the best results.
Partnership with National Leader in Bronchiectasis: For particularly complicated cases, Memorial Healthcare System partners with the renowned program at National Jewish Health in Colorado.
Frequently Asked Questions
What is Bronchiectasis?
Causes of bronchiectasis include genetic disease, issues with the immune system, or multiple previous lung infections. Repeated inflammation or infection makes the airways widen abnormally while their walls thicken. Mucus then collects in the airways, providing a perfect environment for infection.
A person with bronchiectasis cannot clear mucus or phlegm out of their airways. This creates a chronic cycle of lung infections and the symptoms get worse over time.
If you have bronchiectasis, you may have:
Chronic cough
Trouble breathing
Yellow-green mucus
Fever
Fatigue
Weight loss
How is Bronchiectasis Diagnosed?
Diagnosing Bronchiectasis
The specialists at Memorial Healthcare System use leading tools to diagnose this complicated condition:
Blood tests: These help determine whether you have an underlying condition that is causing bronchiectasis.
X-ray and CT scans: Detailed images of your chest and lungs can pinpoint the location of widened or thickened airways, and maybe help determine its cause.
Lung function tests: The doctor will listen to your lungs and administer breathing tests to determine how well your lungs are working.
Sputum (phlegm and mucus) cultures: These test the phlegm and mucus from your lungs. They identify specific germs that may be causing infection and determine the most effective antibiotic treatments.
Bronchoscopy: In some cases, the doctor may need to place a long tube into your airways. This test can find blockages, identify the source of infection and retrieve mucus for testing.
How do you Treat Bronchiectasis?
Treatment for Bronchiectasis
Managing bronchiectasis requires a long-term relationship with your pulmonologist. You will need continued follow-up appointments to address your changing symptoms and needs.
We use a combination of proven methods to prevent and treat infections, break up mucus, and manage symptoms. Used together, they will help you breathe and function better. Your treatment may include:
Antibiotics: Oral and sometimes intravenous (delivered through a vein) antibiotics help fight infections.
Medications to thin mucus: These may be prescribed to help you clear mucus from the airways. They are usually delivered via a nebulizer machine, which turns the liquid into a breathable mist.
Chest physical therapy: A respiratory therapist will use a particular "clapping" technique on your chest to help loosen mucus.
Pulmonary hygiene: This method, also referred to as "pulmonary toilet," involves daily exercises to help you clear the airways of mucus.
Medical devices to break up and clear mucus: A hand-held device that pushes air pressure through the mouth can break up excess mucus in the airways. Your doctor also may prescribe a wearable vest that uses pulsations to break up mucus.
Oxygen supplementation: Some patients with pulmonary hypertension need extra oxygen. Your doctor will teach you how to use an oxygen tank, so oxygen flows through tubes that rest inside your nostrils.
Lifestyle Changes to Reduce Chronic Lung Infections and Symptoms
As part of your comprehensive care, the team at Memorial Healthcare System will help you make lifestyle changes to improve your condition:
Quitting smoking
Eating a healthy diet
Staying hydrated to lessen mucus build-up
Taking oral and inhaled medications on schedule
Getting all appropriate vaccinations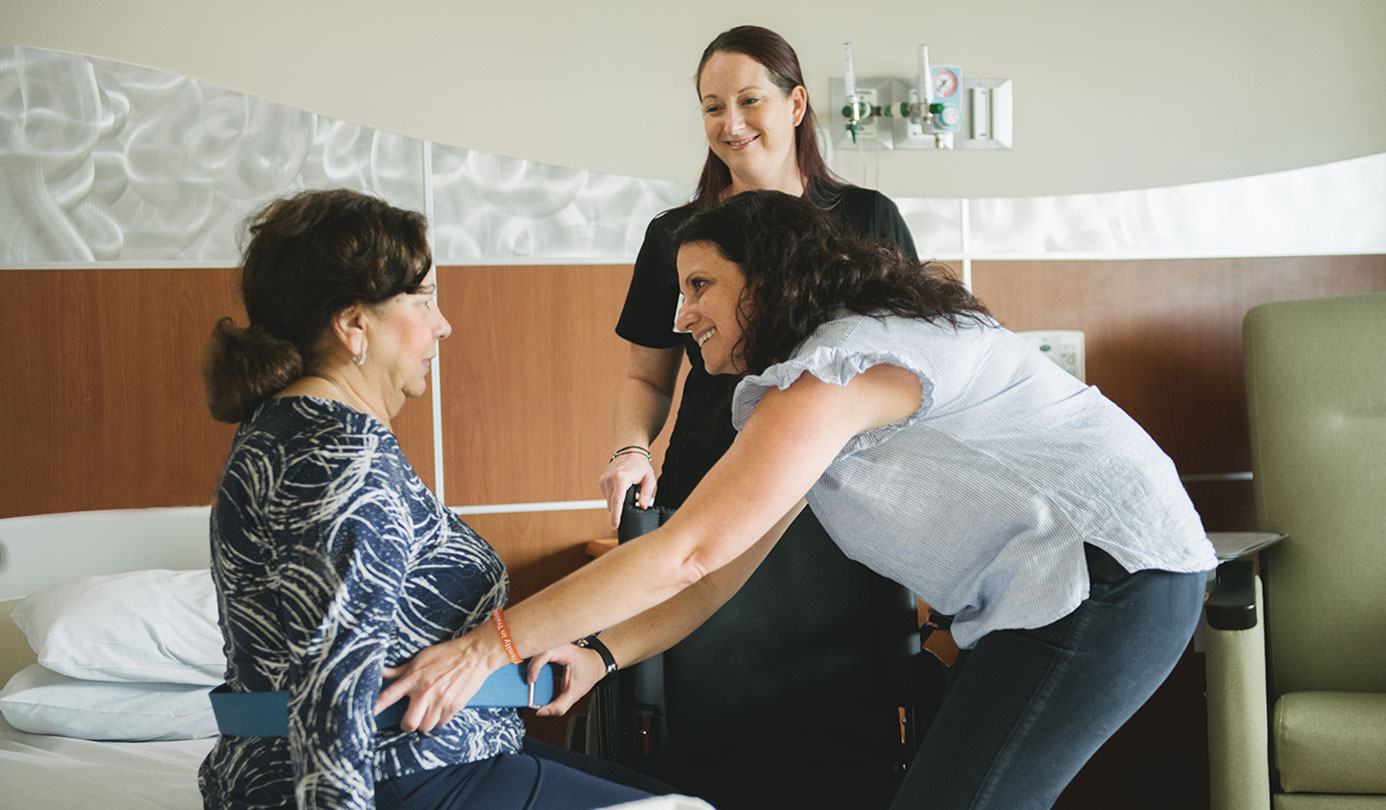 Patient and Family Centered Care
We treat patients and family members as partners in healthcare.
It matters to you. It matters to us.
Quality and Safety Data for Memorial Healthcare System
Our goal is to provide our patients with the information they need to make informed choices for themselves and their families.
View Quality and Safety
You have a Right to Know About Prices
We want to give you the information you need to make important healthcare decisions, including the costs of our services.
View Pricing