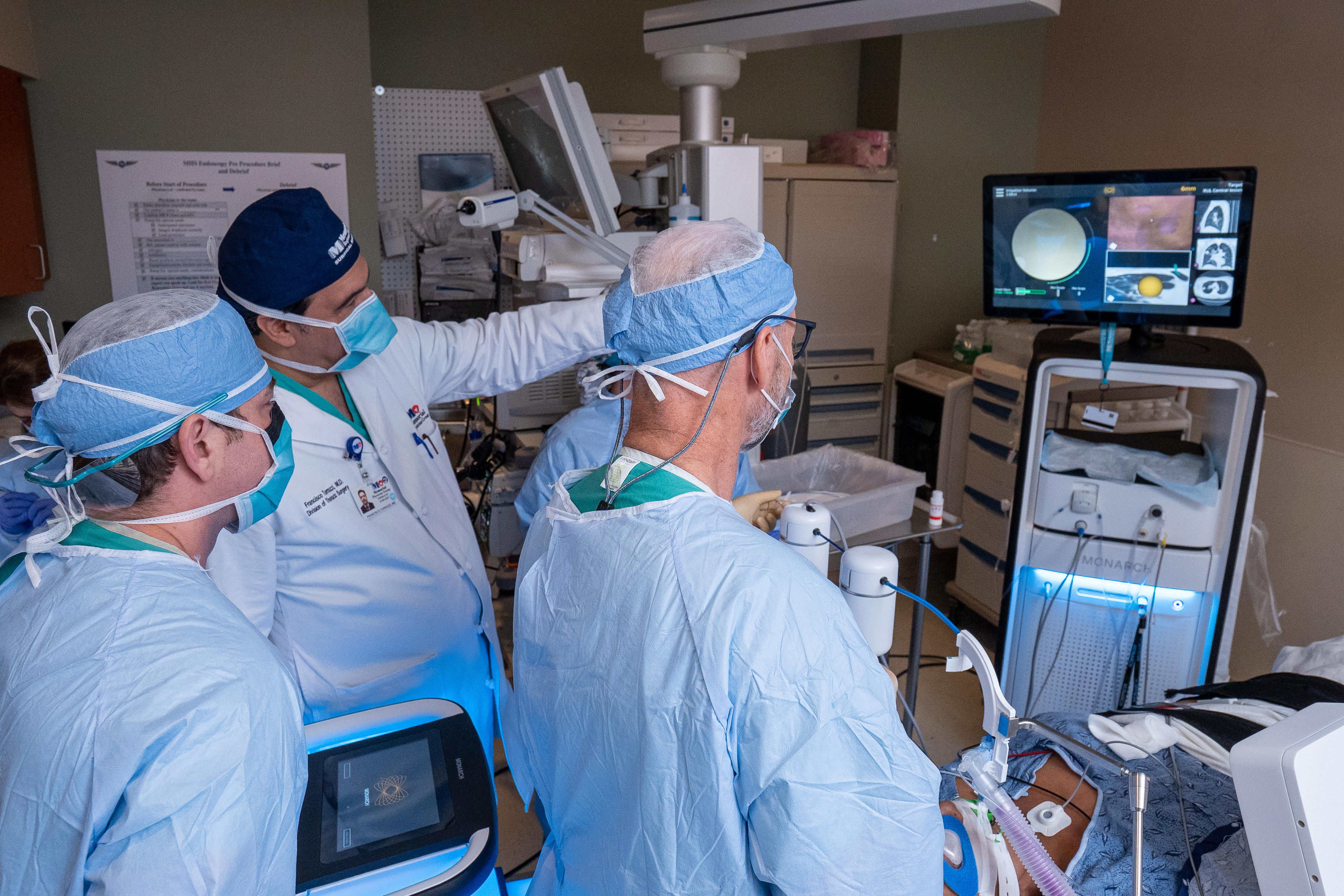 Lung Disease Treatment
Our thoracic surgeons perform common and complex procedures to treat lung and airway diseases
If you have diseased tissue in the lungs or airways, surgical treatment can remove or destroy it. Our thoracic surgeons are specially trained in a variety of procedures to reduce symptoms and make you healthier.
Lung and Airway Disease Care: Why Choose Memorial Healthcare System?
When you come to Memorial with an airway disease, you'll find:
Demonstrated expertise: Our thoracic surgeons are board certified and fellowship trained in procedures to treat airway and lung conditions. Combined, they have over 40 years of dedicated experience with specialized chest surgery. Our team is dedicated to diagnosing and treating thoracic conditions and therefore has a very high level of expertise. This also means you have prompt access to a surgeon without waiting in line behind other types of surgical cases.
Multiple surgical options: We offer a range of surgical treatments for lung and airway disease, including options not available elsewhere. We recommend minimally invasive procedures whenever possible to reduce pain and expedite recovery.
Patient-centered care: Memorial provides many supportive services to help you function better with lung disease. You may benefit from sleep therapists, palliative care, support groups, social workers and pharmacists specializing in lung and airway conditions.
Patient trust: Our patients consistently praise our department for compassionate care and easy navigation through diagnosis and treatment.
Lung and Airway Disease Treatments
Depending on the location and cause of your condition, your thoracic surgeon may recommend one or more of the following procedures. Most are performed while you are in the hospital. Our team takes the time to explain our recommendations and answer all your questions.
We use robotic-assisted surgery or video-assisted thoracoscopic surgery (VATS) whenever possible. These approaches are minimally invasive and have several benefits:
Faster recovery time and return to everyday activities
Fewer and smaller incisions, which means less scarring and lower risk of infection
Less pain
Less blood loss
Shorter hospitalization
Resection
Resection is surgery to remove abnormal, damaged or diseased tissue. The goal is to remove the diseased part of the lung while preserving as much functional lung tissue as possible.
We use a variety of resection techniques. Your thoracic surgeon will let you know which is most appropriate for you.
Types of Resection Techniques:
Stent placement or dilation
If you have a narrowed trachea or bronchi from scar tissue, we usually recommend dilation as the first step. We inflate a balloon inside the narrowed area or use a rigid bronchoscope, which is like a metal tube that can stretch open the narrowed segment.
If the airway is blocked by a tumor, we may recommend a stent after debulking the tumor to prevent it from growing back into the airway.
Endobronchial laser therapy
When a tumor is blocking the airway, laser therapy can effectively eliminate the tumor and open the airway. We do not use a laser to treat narrowing from scarring. Although laser therapy removes the scar in the short term, it eventually leads to more scarring in the future, making the problem worse.
Endobronchial valve
Our surgeons are among only a few in the country who are trained and approved to insert endobronchial valves. These small devices, which look like an umbrella, block air from entering certain parts of the lung.
We typically use this technique to treat a problem called bronchopleural fistula (BPF). A BPF is a hole on the lung surface that lets air leak into the chest cavity, causing a pneumothorax. These leaks usually heal with time when properly treated, but sometimes the leak doesn't heal.
An endobronchial valve can block air from going into the part of the lung with the BPF, giving it time to heal. The valve is placed with a bronchoscope and is usually left in place for up to six weeks before being removed. Endobronchial valves are also used to treat a certain type of emphysema.
It matters to you. It matters to us.
Quality and Safety Data for Memorial Healthcare System
Our goal is to provide our patients with the information they need to make informed choices for themselves and their families.
View Quality and Safety
You have a Right to Know About Prices
We want to give you the information you need to make important healthcare decisions, including the costs of our services.
View Pricing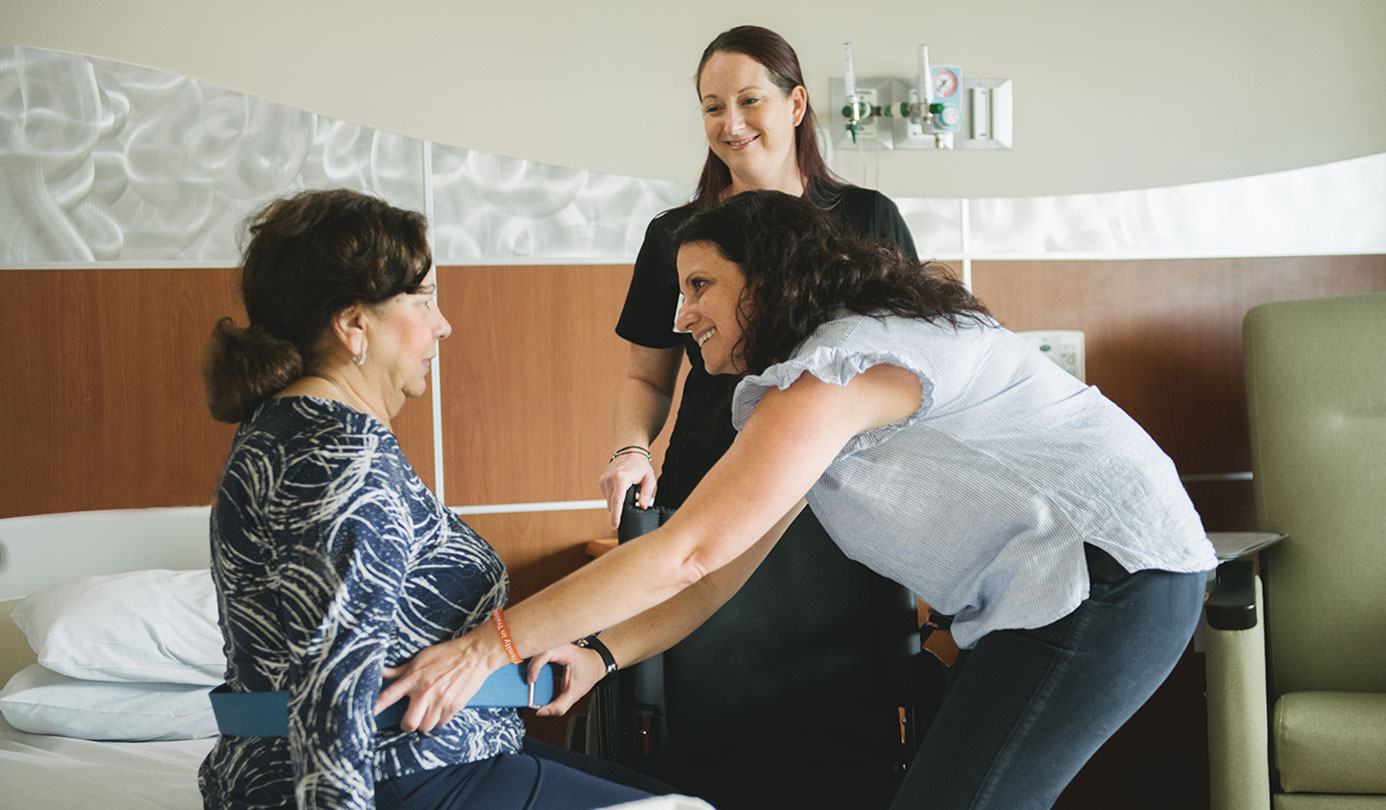 Patient and Family Centered Care
We treat patients and family members as partners in healthcare.