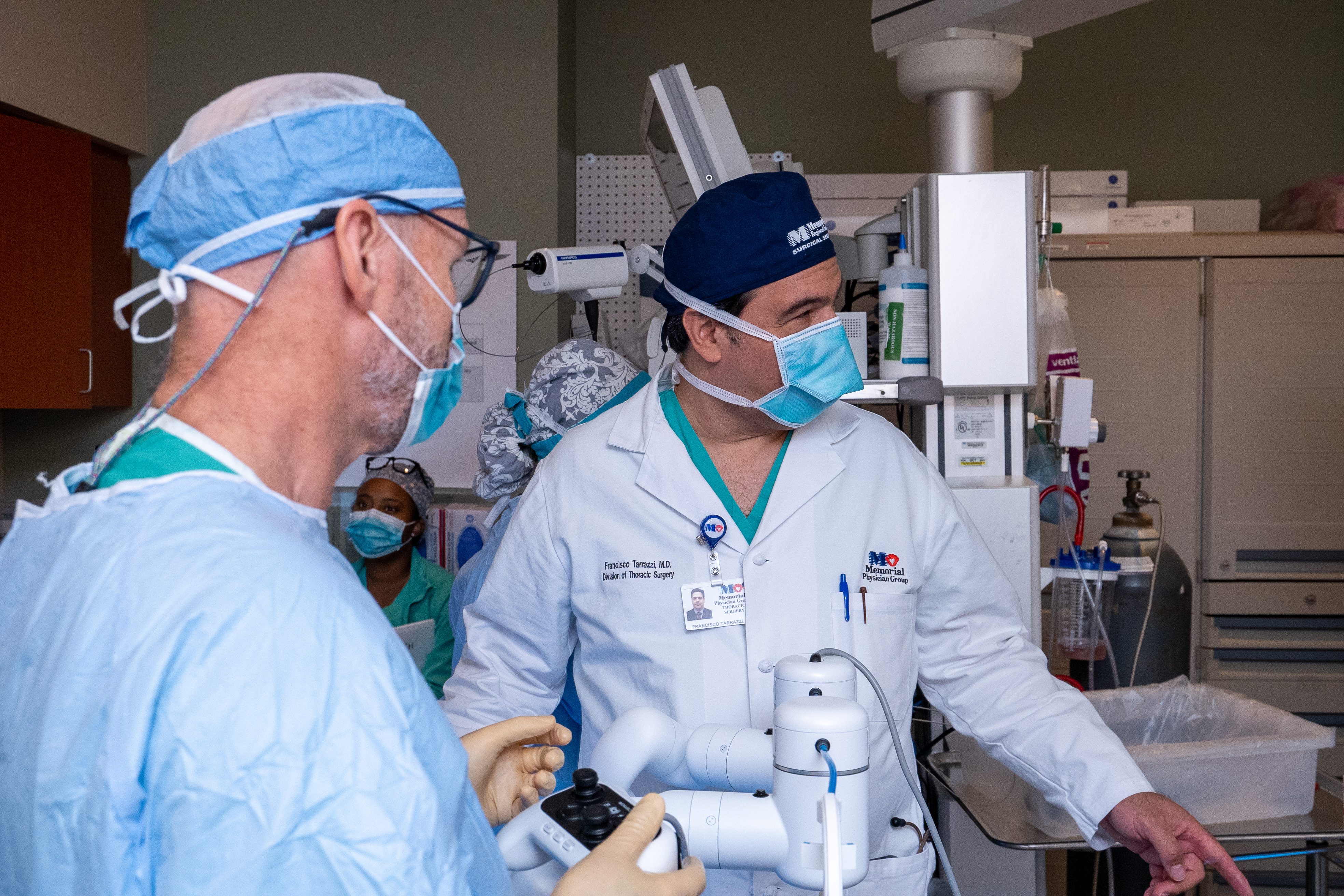 Thoracic Cancer Diagnosis and Treatment
Our thoracic surgeons work with oncologists and radiation therapists to create your treatment plan.
Memorial's dedicated team of thoracic surgeons can identify and remove several types of cancerous tumors, including:
Esophageal cancer
Lung cancer
Thymoma and other mediastinal cancers
Thoracic Cancer Care: Why Choose Memorial Healthcare System?
When you come to Memorial for thoracic cancer diagnosis and treatment, you'll find:
Trusted experts: Our thoracic surgery team has specialized training and extensive experience treating tumors in the chest. Our board-certified, fellowship-trained surgeons have a combined experience of over 40 years in complex chest anatomy and the most effective surgical approaches. Consistently rated as "top doctors" in local, regional and national surveys, we are the experts other doctors refer to for the best possible care.
Prompt and accurate diagnosis: We get you in quickly and perform advanced diagnostic testing on-site. This means you start treatment as soon as possible, which can lead to better outcomes and survival.
Minimally invasive options: We offer the latest surgical treatments for thoracic cancer, including options not available elsewhere. We recommend minimally invasive procedures such as video-assisted and robotic-assisted surgery whenever possible. These options can reduce pain and expedite recovery. Learn more about what to expect with thoracic surgery at Memorial.
Multispecialty care: People with thoracic cancer sometimes need a multidisciplinary team that includes thoracic surgeons, radiation therapists and oncologists. Our team works closely with experts at Memorial Cancer Institute and other providers in our community to ensure you receive comprehensive treatment. We also have close working relationships with thoracic surgeons around the country, including all the major cancer centers. If a surgeon wants a second opinion, we can expedite it and work with them on an agreed treatment plan.
Lung Cancer Screening
Lung cancer is the leading cause of cancer deaths in the United States. But many people don't have any warning signs until the condition is advanced. The best way to prevent death from cancer is to detect the disease early with a low-dose CT scan. Our thoracic surgery team can assess whether you are at risk and should have lung cancer screening.
We also can help you lower your risk with support to quit smoking, including counseling, medications and support groups.

Dr. Block discusses the importance of lung cancer screening
Diagnosing Thoracic Cancer
At Memorial, all our tests are performed on-site, so you get answers and start treatment quickly.
We have the most advanced technology to detect cancer and understand your prognosis, including:
Biopsy, with many methods to access the biopsy site in the least invasive way possible
Monarch bronchoscopy, a state-of-the-art, flexible, robotic tool that improves diagnostic accuracy
Endobronchial ultrasound (EBUS) and endoscopic ultrasound (EUS), advanced yet minimally invasive ways to explore your chest cavity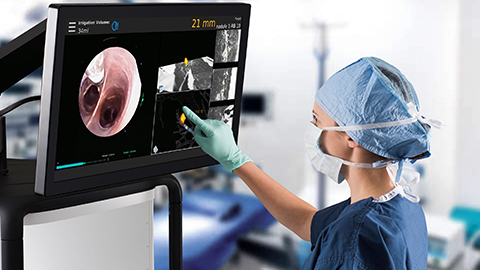 Memorial Cancer Institute First in South Florida, and Among First in U.S., to Use Innovative Technology for Early Detection of Lung Cancer
With 100% funding from Memorial Foundation, new FDA-cleared Monarch™ Platform enables earlier and more-accurate diagnosis of small nodules in the lung.
Thoracic Cancer Surgery
If you are diagnosed with lung, esophageal or another type of thoracic cancer, our team works seamlessly with oncologists from Memorial Cancer Institute to develop a personalized treatment plan. Your care may include surgery, chemotherapy, radiation, immunotherapy, targeted therapy or a combination of treatments.
We have a weekly tumor board meeting, where multidisciplinary experts meet to discuss each of our patients with cancer. This means you get comprehensive recommendations from multiple specialists.
Our surgeons perform many advanced surgeries to remove thoracic cancer, including video-assisted and robotic-assisted procedures. This can mean faster recovery time, fewer incisions, less pain and a lower risk of infection.
We also conduct clinical trials to improve the diagnosis and treatment of thoracic cancers. Clinical trials often allow our patients to access the latest treatments before they are widely available.
It matters to you. It matters to us.
Quality and Safety Data for Memorial Healthcare System
Our goal is to provide our patients with the information they need to make informed choices for themselves and their families.
View Quality and Safety
You have a Right to Know About Prices
We want to give you the information you need to make important healthcare decisions, including the costs of our services.
View Pricing