Program Director's Welcome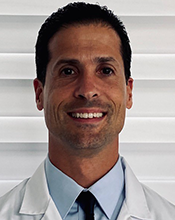 Welcome to the Emergency Medicine (EM) Residency Program at Memorial Healthcare System. We're thrilled you're considering our program for your residency training. We're a unique program with an unrivaled patient population that cannot be duplicated and is in no way simulated. The opportunity to learn from such a socioeconomically and pathophysiologically diverse patient population is the major differentiating feature of our training program and what is indisputably the most important and impactful aspect of any training program.
As a resident in our training program, you'll be exposed to the full breadth of Emergency Medicine, only made possible through the ongoing, longitudinal exposure to our patient population, be it the prototypical community-based patient population of Memorial Hospital West, the underserved patient population of Memorial Regional Hospital or the highly specialized pediatric patient population of Joe DiMaggio Children's Hospital. It is this balance in clinical exposure and experience, among other things, that enables our provision of outstanding clinical training in support of our mission: to educate and train the next generation of EM physicians, capable of caring for any patient regardless of situation or circumstance.
By fostering an environment of curiosity and discovery, you will become a capable, competent, technically proficient, self-actualized and self-confident clinician who puts the care, safety, values and needs of your patients first. You will master the skills required to provide safe, high-quality, cost-effective, culturally conscious, patient- and family-centered care, with the goal of improving the health of the community you serve.
If our mission aligns with yours, we look forward to meeting you to learn all about you and that which you have to contribute to our team.
Guided by our mission, our program has several aims to:
Recruit, train, and retain a highly qualified, capable, and diverse group of trainees.
Provide our trainees with a learning environment that supports their physical, emotional, and intellectual transformation so they learn to provide safe, equitable, affordable, compassionate, high-quality care.
Train physicians with skills in critical thinking and self-directed learning in order to facilitate thoughtful appraisal of scientific literature, and its application to the patient population they serve.
Produce physicians who are resilient, can adapt to difficult situations, and thoughtfully reconcile adverse outcomes while maintaining a sense of wellness, integrity and purpose.
Create a supportive, nurturing, and inclusive environment where future physicians and physician educators are prepared for the ever-evolving human experience.

Emergency Medicine Residency
We are a community-based, university affiliated program sponsored by Memorial Healthcare System—which has a long history of medical education and research through our affiliations with Florida Atlantic University, Florida International University, and Nova Southeastern University.
We have an Office of Human Research with its own IRB, allowing residents to participate and lead research efforts.
3-year training program with 10 residents per post-graduate year.
4-week clinical block schedule that maximizes clinical time while providing opportunity for additional experiential learning.
Three unique sites for clinical training, each of which has its own distinctive patient population, assuring residents a diversity in patient experience, both socioeconomically as well as pathophysiologically.
Large Emergency Department volumes with high admission rates indicative of patient populations of particularly high acuity.
Access to an $18 million, 66,000 sq. ft., three story Simulation Center at Broward College.
Hospitals & Practice Sites
It matters to you. It matters to us.
Quality and Safety Data for Memorial Healthcare System
Our goal is to provide our patients with the information they need to make informed choices for themselves and their families.
View Quality and Safety
You have a Right to Know About Prices
We want to give you the information you need to make important healthcare decisions, including the costs of our services.
View Pricing