Subarachnoid Hemorrhage
We treat subarachnoid hemorrhage using clipping, coiling or stenting in our catheter lab at our Comprehensive Stroke Centers and Primary Stroke Center.
Subarachnoid hemorrhages (SAH) are a type of stroke. These bleeds in the brain require emergency treatment. As soon as patients arrive in the emergency room, our neurosurgical and neurointerventional teams are collaborating to provide specialized care and stop the bleeding.
Our goal is to decrease pressure in the brain as quickly as possible. When an aneurysm ruptures and causes a subarachnoid hemorrhage, controlling the pressure in the brain is the key factor in determining outcome.
Subarachnoid Hemorrhage: Why Choose Memorial Healthcare System?
Subarachnoid Hemorrhage: Why Choose Memorial Healthcare System?
Collaborative care
From the moment a patient arrives in our emergency room, our team collaborates on their treatment plan.
Data shows that patients who are treated by a team of multiple specialists receive better care and recover more quickly.
Centralized, unique services
At Memorial Healthcare System, we have a neurocritical care unit, a cerebrovascular neurosurgeon and a neuro rehabilitation program all on-site. This collection of services cannot be found elsewhere in Broward County.
This means patients can come to us for any level of care — from emergency to post-acute care, rehab and follow-up care.
A focus on you
From the moment you step foot in our emergency department, we connect you and your family with a designated point-of-contact.
This person is available to support you and you and your family through the entire spectrum of SAH care.
During treatment and recovery, you and your family can feel at ease knowing exactly who to contact to answer your questions.
Subarachnoid Hemorrhage Overview
A subarachnoid hemorrhage occurs when there is bleeding in the space between the brain and the tissues that cover the brain. A traumatic head injury can cause this bleeding. Or, the bleeding can occur when a brain aneurysm or AVM ruptures.
Between the brain and skull, cerebrospinal fluid fills up the space and acts as a cushion for the brain. This space where the cerebrospinal fluid exists is called the subarachnoid space. When blood gets into this area, it can increase pressure on the brain and cause a stroke.
Stroke symptoms are an emergency. If you experience any of these symptoms, seek emergency care right away:
Sudden headache, often described as "the worst of your life"
Stiff neck
Sensitivity to light
Nausea and vomiting
Sudden seizures
Blurred vision or seeing double
Subarachnoid Hemorrhage Care: What to Expect
To treat a subarachnoid hemorrhage, we take patients to the operating room or cardiac catheterization (cath) lab immediately. As a Joint Commission-certified Comprehensive Stroke Center, our team of surgeons can provide clipping, coiling or stenting in our cath lab within the first 24 hours of bleeding.
Clipping: In this procedure, your surgeon goes through tiny incisions to place a small metal clip on the aneurysm. This stops any more blood from flowing to the aneurysm. With this approach, there is a low risk of a rupture happening again.
Coiling: Our surgeons place a tiny coil inside the aneurysm to make sure no more blood can fill in the area. This approach inserts a catheter (tube) through a vein in the leg to reach the blood vessels in the brain. This means there is no incision in the skull.
Stenting: With the expertise of our cerebrovascular surgeon, we also offer a procedure called stent surgery. Our surgeon places a small stent (hollow tube) in the brain to direct blood flow away from an aneurysm. This procedure also goes through a vein in the leg, so there is no skull incision. Stent surgery can be done on both ruptured or unruptured aneurysms.
Comprehensive Stroke Care
Memorial Healthcare System offers stroke care through our Joint Commission-certified Comprehensive Stroke Centers and a Primary Stroke Center. To achieve Comprehensive Stroke Center certification, health systems must:
Offer advanced imaging
Use the most innovative treatment options
Have a dedicated neurocritical care unit
Treat a high volume of patients
Participate in the latest research
Neurocritical Care Unit
In the first 2-3 weeks after a subarachnoid hemorrhage, patients are at risk of another stroke and further bleeding.

To decrease this risk, we have a dedicated neurocritical care unit where patients are watched closely the first 14-21 days after their surgery. There, board-certified neurointensivists closely monitor patients to make sure that the pressure on the brain is being managed effectively.

Adrian's Hemorrhagic Stroke Story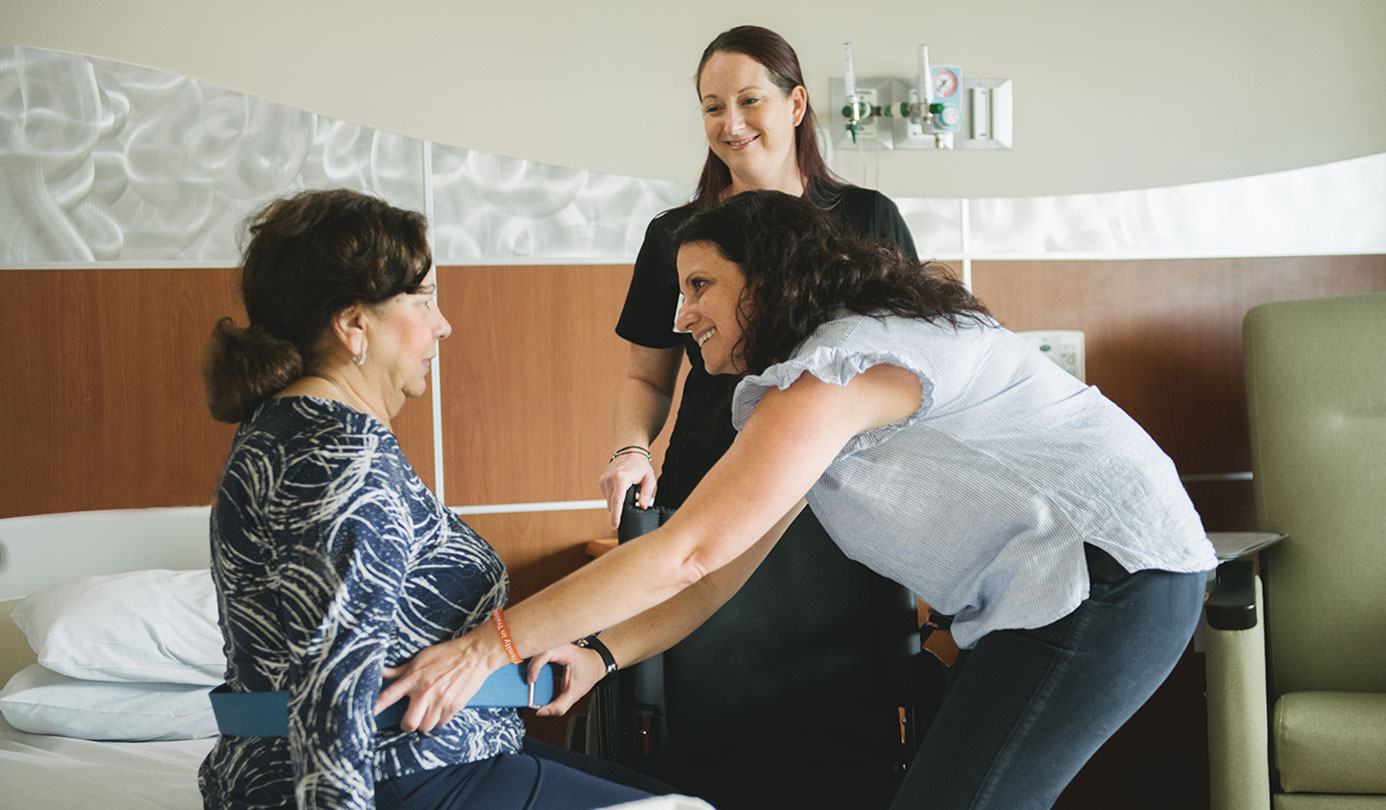 Patient and Family Centered Care
We treat patients and family members as partners in healthcare.
It matters to you. It matters to us.
Quality and Safety Data for Memorial Healthcare System
Our goal is to provide our patients with the information they need to make informed choices for themselves and their families.
View Quality and Safety
You have a Right to Know About Prices
We want to give you the information you need to make important healthcare decisions, including the costs of our services.
View Pricing