Liliana Gomez-Medley, MD
Family Medicine - Memorial Primary Care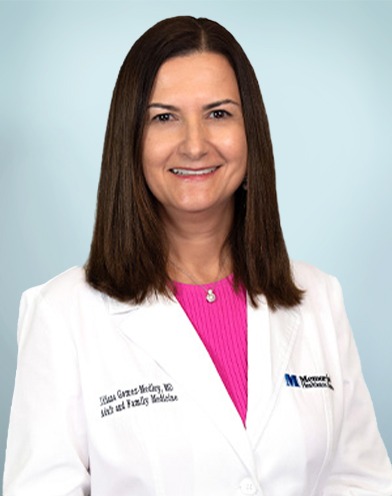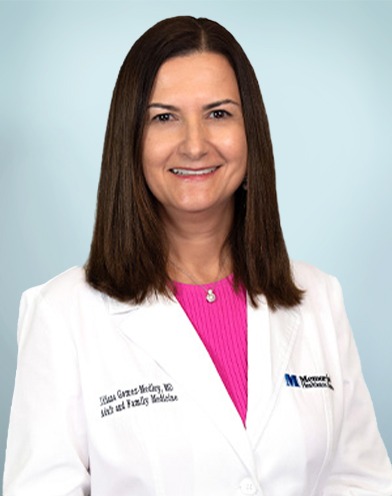 Memorial Primary Care
3700 Johnson Street
Hollywood, FL 33021
954-265-2570
About Me
I am a primary care physician at Memorial Healthcare System where I care for patients with a wide range of health conditions, illnesses and injuries. I am especially passionate about preventive care and wellness with a holistic approach. I am deeply committed to helping people manage and treat chronic conditions including obesity and complications from it like diabetes type 2, hypertension, fatty liver, depression and anxiety. I also have an interest in women's health, skin problems, headaches and musculoskeletal conditions like osteoarthritis, among others.
I was first attracted to medicine because of the science and a drive to understand how the human system really works — and how to fix it when it doesn't. I chose to specialize in primary care because it is the front line of medicine. We have an opportunity to get to know a patient in a way that no other specialty can and develop a long-term relationship with them. We can leverage these relationships to work with patients to prevent serious problems before they start or manage developing problems before they get serious. This improves their quality of life and, in the process, limits the need for later specialized care and hospitalization.
My approach to care is holistic. This means that every time I meet with a patient, I'm going to ask a lot of questions not just about what hurts, but what concerns them, possible causes of stress or anxiety, their goals, their family history, their diet and other related topics. The more we know, the more we can put any new or ongoing conditions into a larger context that will allow us to better treat them.
My main goal as a doctor is to get to the root of the problem and not just treat symptoms. In family medicine, our training and experience have prepared us to competently diagnose and treat a great variety of conditions and, when necessary, work as a team with our wonderful specialists to achieve a positive outcome.
Before joining Memorial, I was trained in pediatrics in my home country of Colombia, and I saw children of all ages in my former practice in Virginia. I am certified in obesity medicine and in my previous position, was also very involved in community outreach on topics ranging from holiday safety to helping improve COVID vaccination rates to being a panelist for a virtual session on LGTBQ issues in the Latino population. I also enjoy working with medical residents and students.
Hospital Affiliations
Gender
Education
Education
Juan N Corpas School Of Medicine, 1995
Residency
Grant Medical Center, 2009, Family Medicine
Pontificia Universidad Javeriana, 2002
Fellowships
Certifications
American Board of Family Medicine-Family Medicine
Awards, Achievements, and More
Professional Organizations
American Academy of Family Physicians
Obesity Medicine Association
American College of Lifestyle Medicine
Presentations
Interviewed for story about COVID-19 in Latino community on NTN24 (a global Spanish language news channel) Apr 2021
Mid-Atlantic Permanente Physician Panel Discussion about COVID-19 vaccines (in Spanish), Facebook Live Feb 2021
Four interviews with El Tiempo Latino on topics related to COVID-19 (in Spanish), Facebook Live May – Dec 2020
Prince George's County, MD, "Nutrition and a Healthy Lifestyle," Summer Program for Middle and High School July 2020
Poster, "Osteoporosis in Men," Intramural Conference Grant Medical Center May 2009
Grant Medical Center Grand Rounds Presentation "Ring Enhancing Lesions of the Brain, Differential Diagnosis" January 2009