Noureldin Abdelhamid, MD
Medical Director, Neurohospitalist and Medical Stroke Programs
Neuro-Hospitalist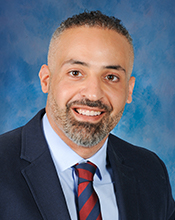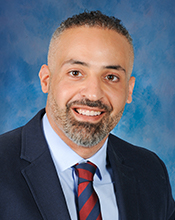 Memorial Division of Neurology
1150 N 35th Avenue Suite 590
Hollywood, FL 33021
954-265-1431
About Me
Medical Director, Neurohospitalist and Medical Stroke Programs
I am a hospital-based vascular neurologist at Memorial Healthcare System. I care for patients suffering from stroke, as well as those with acute and critical neurological conditions requiring hospitalization, such as seizure disorders, multiple sclerosis, myasthenia gravis and Guillain-Barré syndrome.
I chose to specialize in neurology because I always wanted to study this higher organ that makes our species different. It has been a long journey learning it, yet I still find its complexity quite intriguing. There continues to be vast room for advancement in the field, which is a source of hope for my patients and me.
I'm passionate about helping people avoid the devastating outcomes of stroke, especially after losing my own two grandmothers to the disease. Stroke is the leading cause of disability in the country, and early and advanced treatment plays a critical role in helping people return to their normal lives.
I call upon my many years of experience gained working at multiple large comprehensive stroke centers around the country to meet the personalized needs of those in my care. Throughout my professional years I have quickly gained a reputation of being a hardworking, smart, compassionate physician. In addition, I have held leadership roles, served as a teacher and conducted research in the field.
My mission is to provide my patients with the best care, to offer excellent neurological consultation services to all hospital divisions and to improve the stroke quality measures worldwide.
Hospital Affiliations
Gender
Languages
Education
Education
Ain Shams University, 2005
Internships
Ain Shams University, 2006
Suny At Buffalo School Of Medicine, 2012, Neurology
Residency
Suny At Buffalo School Of Medicine, 2015, Neurology
University Of Cairo, 2008
Fellowships
Houston Methodist Hospital, 2021, Vascular Neurology
Certifications
American Board of Psychiatry and Neurology-Neurocritical Care
American Board of Psychiatry and Neurology-Neurology
American Board of Psychiatry and Neurology-Vascular Neurology
Awards, Achievements, and More
Professional Organizations
American Academy of Neurology
American Heart and Stroke Association
Medical Council of Canada
Egyptian Medical Syndicate
Awards
Excellence in Stroke Care Award, Houston Methodist Hospital, Texas, 2021
Golden Needle Award for the fastest stroke treatment of the year (17 minutes), Houston Methodist Hospital, Texas, 2021
Stroke Research Investigator Award, Houston Methodist Hospital, Texas, 2021
Ed Fogan Award for the Best Neurology Resident, University of Buffalo, New York, 2015
American Academy of Neurology Resident Scholarship Award, 2015
Best Quality Improvement Research Project, University of Buffalo, New York, 2014
Medical School Dean's List, Ain Shams University, Cairo, Egypt, 2003