Hip Replacement
An estimated 27 million people in the United States suffer from osteoarthritis of the hip, a chronic and often painful joint condition that occurs when cartilage inside the hip breaks down. Seniors are at a higher risk for developing this condition, which can occur due to a previous injury, certain inflammatory or medical conditions, or simply from years of wear and tear.

If non-surgical treatments aren't effective, you may need to have hip replacement surgery.
Take your first step toward pain-free living by scheduling a hip replacement consultation with one of our specialists at:
954-844-2663
Frequently Asked Questions
See how hip replacement surgery helped our patients
Anterior Hip Replacement Surgery
Memorial Joint Replacement Center offers a minimally invasive option for patients in need of total hip replacement. Known as anterior hip replacement or the direct anterior approach to the hip for total hip arthroplasty, this muscle-sparing alternative can be a viable option for patients who are candidates for total hip replacement. The surgical technique is demanding and requires special training. 15 to 20 percent of hip replacement patients in the United States currently receive their hip replacement using this anterior approach.
Our team of highly skilled, board-certified orthopaedic surgeons, have extensive experience with anterior hip replacement surgery.

Since the procedure only requires a small incision at the front of the leg to access the hip joint and goes between the muscles without having to cut them, this anterior approach offers many potential benefits to patients over the traditional posterior approach including:
Faster recovery
Fewer post-operative complications (such as dislocation)
Improved mobility
Less pain
Lower hip dislocation rate
Intraoperative X-ray imaging throughout the procedure facilitates appropriate implant placement before the patient leaves the operating room, which decreases the risk of dislocation and prolongs the life of the implant when compared to total hip replacement surgery. Advanced technology also includes the use of a specialized table that facilitates better exposure of the hip during the various steps of the procedure, which is another benefit of this anterior approach.

Not all patients are candidates for direct anterior approach total hip replacement. Depending on your condition, total hip replacement through a posterior, lateral or anterolateral approach may be recommended by your surgeon.

Several conditions that could exclude patients from the anterior approach include:
Leg length inequality
Severe acetabular (the cup-shaped hip-joint socket) bone loss
Severe obesity
Some types of previous hip surgery procedures
Advantages of Anterior Hip Replacement Surgery

Total Hip Replacement
Total hip replacement is a surgical procedure where the worn out surfaces of the hip are replaced with man-made components. Over time, cartilage that cushions the bones can wear away, cause pain and discomfort, and make simple pleasures like walking and gardening unbearable. Hip replacement may reduce or eliminate pain, allow easier movement and get you back to leading a normal life.
Memorial Joint Replacement Center at Memorial Hospital West has earned The Joint Commission's Gold Seal of Approval® for Advanced Total Hip and Knee Replacement Certification. The certification, offered in collaboration with the American Academy of Orthopaedic Surgeons, means patients can expect a consistently high level of quality care and a reduced risk of error thanks to Memorial's unwavering commitment to data-driven performance improvement and patient- and family-centered care.

Blue Cross and Blue Shield Association chose Memorial Regional Hospital and Memorial Hospital West as Blue Distinction Centers+ for Knee and Hip Replacement, recognizing their expertise in total knee and hip replacement surgeries, resulting in fewer patient complications and hospital readmissions.
Outpatient Rehabilitation
After your hip replacement surgery, our team continues to support you during your recovery. Our clinical exercise physiologists can create an individualized exercise plan to get you back to the activities you once enjoyed through our Total Joint Replacement Recovery Program.
Locations
Memorial Hospital West
703 N. Flamingo Road
Pembroke Pines, FL 33028
Memorial Regional Hospital
3501 Johnson Street
Hollywood, FL 33021
Memorial Orthopaedic Surgery and Sports Medicine Center
2122 West Cypress Creek Road, Suite 220
Fort Lauderdale, FL 33309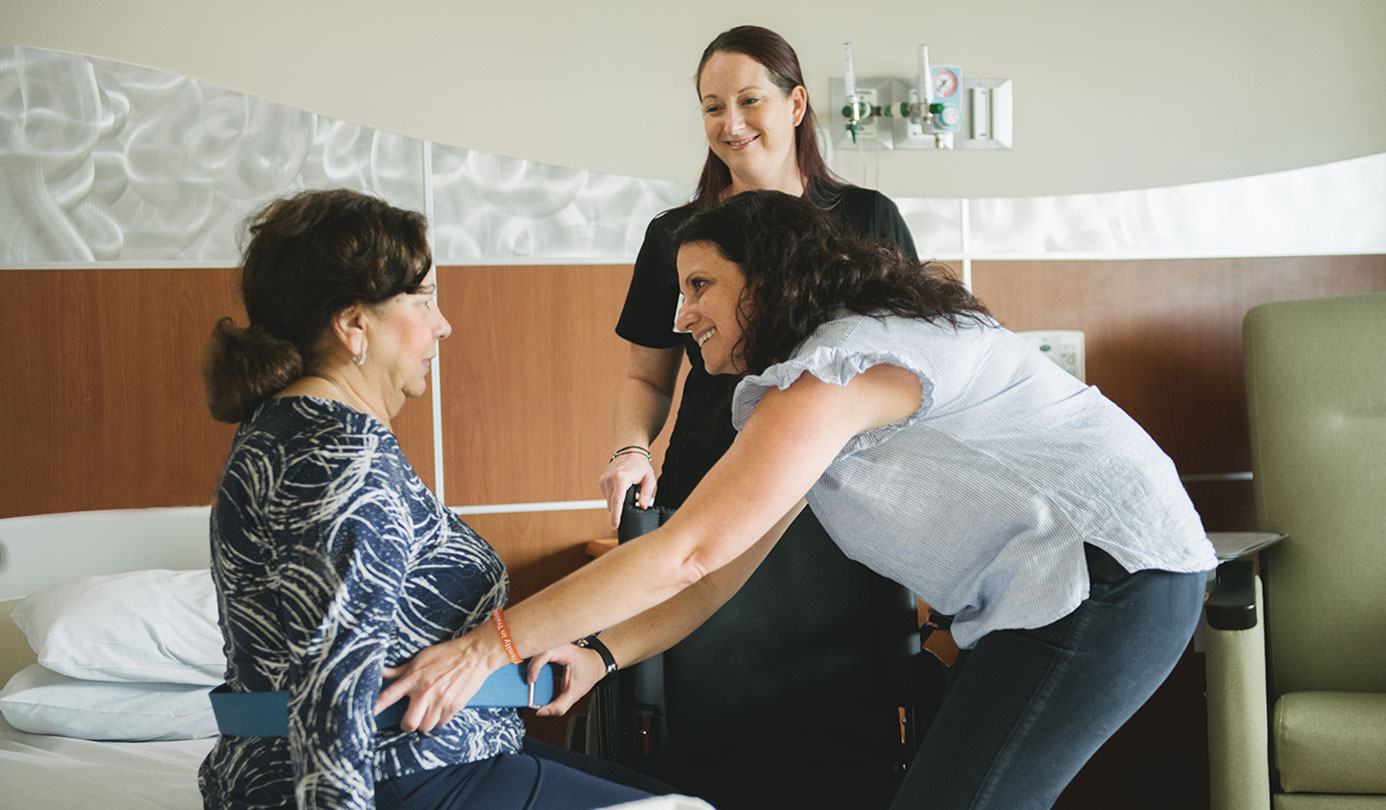 Patient and Family Centered Care
We treat patients and family members as partners in healthcare.
It matters to you. It matters to us.
Quality and Safety Data for Memorial Healthcare System
Our goal is to provide our patients with the information they need to make informed choices for themselves and their families.
View Quality and Safety
You have a Right to Know About Prices
We want to give you the information you need to make important healthcare decisions, including the costs of our services.
View Pricing