Marc Ialenti, MD
Orthopedic Surgery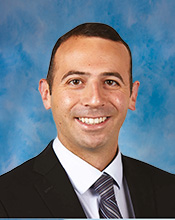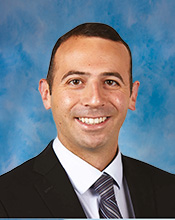 Orthopaedic Associates of South Broward
4700 Sheridan Street Suite H
Hollywood, FL 33021
954-961-1835
About Me
I am an orthopedic surgeon at the Joint Replacement Center at Memorial Healthcare System. I specialize in sports medicine, cartilage restoration procedures, arthroscopic surgery, joint replacement surgery of the shoulder, hip and knee, and fracture management.
I have always been amazed by the ability of the human body to recover from injury. This fascination along with a desire to help people get back to active, pain-free lifestyles inspired me to pursue a career in orthopedics.
I treat each of my patients with the utmost compassion and care. During our first meeting, I take my time to not only learn about your injury, but also get to know you. I attempt to treat my patients non-operatively when possible, and, if surgery is needed, I am trained in the latest surgical techniques.
I have always enjoyed working with athletes at all levels – from weekend warriors to professional athletes. Throughout my career I have had the privilege of providing care to sports teams including the Miami Hurricanes, Miami Marlins, California Golden Bears and San Francisco Deltas. I have also provided medical coverage at national and international sporting events, and enjoy working with local high schools.
In addition to providing patient care, I have authored several peer-reviewed publications and have won multiple research awards. I have also given presentations at orthopedic conferences across the United States, as well as in Japan and Mexico.
Related Medical Services
Hospital Affiliations
Gender
Education
Education
New York University School Of Medicine, 2011
Internships
Jackson Memorial Hospital/University Of Miami, 2012, Orthopedic Surgery
Residency
Jackson Memorial Hospital/University Of Miami, 2016, Orthopedic Surgery
Fellowships
University Of California, 2017, Orthopedic Surgery
Certifications
American Board of Orthopaedic Surgery-Orthopedic
Awards, Achievements, and More
Publications
View Dr. Marc Ialenti's publications on
PubMed
.
Research
I am involved in clinical research relating to shoulder stabilization, shoulder arthroplasty and subscapularis shoulder repairs. My goal is to improve patient outcomes and improve treatment options for athletes with shoulder injuries.
Professional Organizations
American Orthopaedic Society for Sports Medicine
Arthroscopy Association of North America
American Orthopaedic Association – Emerging Leaders
American Academy of Orthopaedic Surgeons
Presentations
"Return to play following shoulder stabilization: a systematic review and meta-analysis"
Marc Ialenti, Jeffrey Mulvihill, Max Feinstein, Alan Zhang, Brian Feeley
Presentations: American Shoulder and Elbow Surgeon Society 2017 (podium-presenter), Western Orthopaedic Association 2017 (poster)
"Radiographic and clinical evaluation following surgical fixation of proximal hamstring avulsion injuries"
Marc Ialenti, Joseph LaMartina, David Ding, Daria Motamendi, Christopher Daprato, Christina Allen
Presentations: Inman-Abbott Annual Conference 2017 (podium-presenter)
"Patellar tendon repair using cortical buttons with comparison to transosseous and suture anchor fixation: a cadaveric biomechanical analysis"
Marc Ialenti, Shahrose Hussain, Amir H. Qureshi, David Kaimrajh, Bryson Lesniak, Michael Baraga
Presentations: American Orthopaedic Association Annual Meeting 2015(poster-presenter), Florida Orthopaedic Society Annual Meeting 2015 (poster)
"Analysis of Orthopaedic Surgery consultation for diabetic foot complications at a large, public hospital: a quality improvement project"
Marc Ialenti, Leonard Buller, Sheila Conway
Presentations: Florida Orthopaedic Society Annual Meeting 2015 (podium-award winner), American Orthopaedic Association Annual Meeting 2015 (poster-presenter)
"Tensor Fascia Lata Allograft in ACL reconstruction: Our next best graft option?"
Marc Ialenti, Craig Spurdle, Hayley Ennis, Michael Baraga
Presentations: University of Miami Orthopaedic Grand Rounds 2015
"Hospital cost analysis of adult scoliosis surgery in 120 consecutive cases"
Marc Ialenti, Baron Lonner, Phedra Penn, Pedro Ricart-Hoffiz, Shaun Xavier, Lynne Windsor, Frank Schwab, Thomas Errico
Presentations: Scoliosis Research Society Annual Meeting 2010 (podium-presenter), Latin American Society for the Advancement of Spine Surgery Annual Meeting 2010 (podium-presenter), North American Spine Society Annual Meeting 2010 (poster defense presentation)
"Disease severity and treatment in Adolescent Idiopathic Scoliosis: the impact of race and socioeconomic status"
Neil Bharucha, Per Trobisch, Kristin E. Kean, Sandra Richard, Yolanda Bucello, Marc Ialenti, Baron S. Lonner
Presentations: Latin American Society for the Advancement of Spine Surgery Annual Meeting 2010 (podium-presenter)
"Do antifibrinolytics reduce blood loss in spinal surgery for Adolescent Idiopathic Scoliosis"
Kushagra Verma, Neil Bharucha, Christopher Diefenbach, Marc Ialenti, Tessa Huncke, Kirsten Boenigk, Baron Lonner, Thomas Errico
Presentations: Latin American Society for the Advancement of Spinal Surgery Annual Meeting 2010 (podium)
"Cost analysis of Neuromuscular Scoliosis correction surgery in 73 consecutive cases"
Jonathan R. Kamerlink, Kushagra Verma, Antonio Valdevit, Shaun Xavier, Marc Ialenti, Joseph Dryer, David Feldman, Baron Lonner, Thomas Errico
Presentations: North American Spine Society Annual Meeting 2009 (poster), International Meeting on Advanced Spine Techniques 2009 (poster), Global Spine Congress 2009 (poster)
"Predictors of operative blood loss in patients with Neuromuscular Scoliosis undergoing spinal fusion surgery"
Kushagra Verma, Jonathan R. Kamerlink, Shaun Xavier, Marc Ialenti, Joseph Dryer, David Feldman, Baron Lonner
Presentations: North American Spine Society Annual Meeting 2009 (poster), International Meeting on Advanced Spine Techniques 2009 (poster), Global Spine Congress (poster)
"Estimating operating blood loss in AIS: can blood loss be predicted"
Jonathan R. Kamerlink, Kushagra Verma, Antonio Valdevit, Shaun Xavier, Marc Ialenti, Joseph Dryer, David Feldman, Baron Lonner, Thomas Errico
Presentations: AAOS Annual Meeting 2010 (poster)
Awards
Orthopaedic Clinical Research Award, New York University School of Medicine
Phi Alpha Theta, College of the Holy Cross
Magna Cum Laude, College of the Holy Cross