Program Director's Welcome
Thank you for your interest in the Anesthesiology Residency Program at Memorial Healthcare System in Hollywood, FL. Choosing the right residency program is one of the most important career decisions that you will make, and I am confident that our four-year integrated training program will provide you with a tremendous opportunity to learn in an environment that is both friendly and academic.
For the first time since our program welcomed its first residents in 2020, all classes are represented. Dr. Onassis Naim matched into cardiothoracic anesthesiology at Massachusetts General Hospital, and we are excited to host our first resident graduation ceremony at the end of this academic year. It is an exciting time to join our training program and become part of our perioperative medicine community.
My philosophy is that learning during residency should allow you to achieve your personal career goals with the support and guidance of an accomplished faculty. My hope is that we will not only train you as skilled physician anesthesiologist, but also provide you with the skills to be a leader in patient safety, quality, and perioperative medicine.
About Our Anesthesiology Residency Program

Follow us on Instagram @MHSAnesthesiology
We are a community-based program sponsored by the Memorial Healthcare System, which has a long history of medical education and research through our affiliations with Florida Atlantic University, Florida International University, and Nova Southeastern University. The Memorial Healthcare System has a robust Office of Human Research with its own IRB, allowing residents to participate and even lead research efforts in perioperative medicine.
Our accomplished anesthesia faculty have completed residency and fellowship training at some of the most prestigious academic institutions and are members of Envision Physician Services. A nationally recognized leader in perioperative quality, safety, and efficiency, Envision Physician Services has provided anesthesia services at Memorial Healthcare System since 1953. This deep relationship affords our trainees with unique exposure to cutting edge training in anesthesia quality and practice management.
Residents will be exposed to large operative volumes (over 18,000 surgical and 70,000 nonsurgical procedures/year).
As part of our network of teaching facilities, there is a dedicated children's hospital as well as a State and American College of Surgeons Designated Level I Trauma Center.
Residents will have access to an $18 million, 66,000 square foot Simulation Center at Broward College for development of skills in team training, crisis management, and advanced procedures.
24/7 Hospitalist, Intensivist, and Anesthesiologist coverage will provide residents with a better educational experience.
Our residency program supports multiple educational resources for residents, including a yearly educational stipend as well as access to Anesthesia Toolbox, TrueLearn and PassMachine.
Residents and faculty present their work at multiple academic conferences each year, including the Florida Society of Anesthesiologists annual meeting, ASA, SOAP, ASRA, SCA, SPA, and IARS.
Nearly all rotations have a dedicated night float team that takes over in the evening and hands over the next morning. Overnight call is limited only to those services where there is a corresponding learning experience.
The small size of our training program (3 residents per class) allows us to get to know each of our residents on a personal level and provides a learning environment rich with camaraderie and the ability to develop relationships with colleagues, faculty and mentors.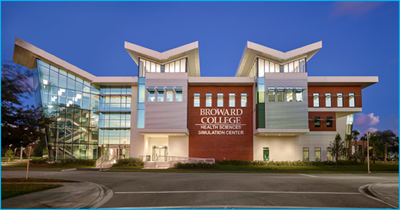 About Broward College Health Sciences Simulation Center
The Broward College Health Sciences Simulation Center (HSSC) is a three story, 66,000 sq. ft. learning facility designed to mirror an acute care hospital. HSSC provides realistic experiences, using the latest medical simulation technology, for future health care providers, entry level health science professionals and current community decision makers by allowing them to experience real life situations within a safe learning environment through team collaboration.
Basic principles of surgery
Real hospital equipment
Simulation and robotic surgery
Web based surgical training
It matters to you. It matters to us.
Quality and Safety Data for Memorial Healthcare System
Our goal is to provide our patients with the information they need to make informed choices for themselves and their families.
View Quality and Safety
You have a Right to Know About Prices
We want to give you the information you need to make important healthcare decisions, including the costs of our services.
View Pricing