Allergy and Immunology Residency Education
Explore Our Allergy & Immunology Residency Curriculum
Rotation Schedule
During the Allergy & Immunology Fellowship, fellows will complete the following clinical rotations:
Pediatric Inpatient (JDCH)
Adult Inpatient (MRH)
Pediatric Outpatient (JDCH)
Adult /Pediatric Inpatient/Outpatient (MHW)
Adult Allergy/Immunology (Asthma & Allergy Assoc. of FL)
In addition to these specialties, fellows can also participate in the following electives:
Pediatric Rheumatology
Otolaryngology
Pulmonology
Genetics
Hematology/Oncology
Cardiac Transplant
Pediatric gastroenterology
Below are examples of the fellow block schedules: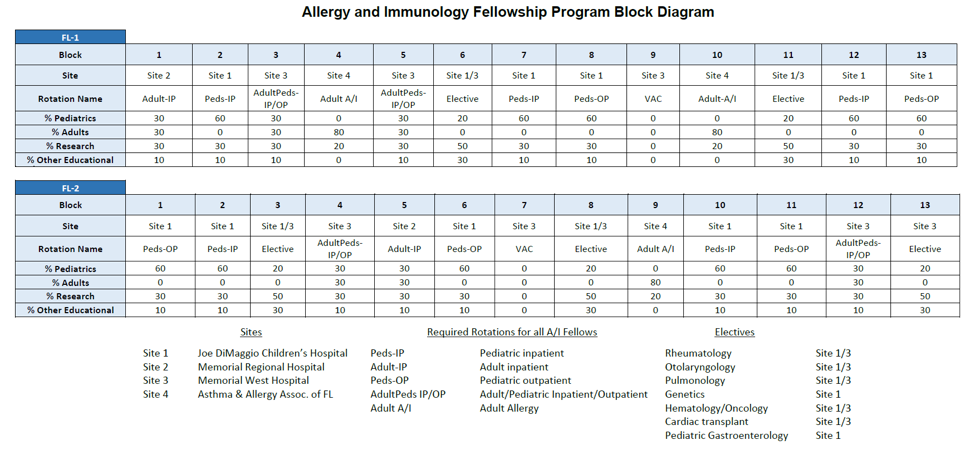 Didactic Schedule
In addition to clinical rotations, fellows also participate in various learning opportunities including didactics, presentations, and workshops. A finalized didactic schedule will be provided at orientation.

It matters to you. It matters to us.
Quality and Safety Data for Memorial Healthcare System
Our goal is to provide our patients with the information they need to make informed choices for themselves and their families.
View Quality and Safety
You have a Right to Know About Prices
We want to give you the information you need to make important healthcare decisions, including the costs of our services.
View Pricing
Take charge of your health and see what sets our care apart