Explore Our Acupuncture Services
What is acupuncture?
Acupuncture is an all-natural method of promoting healing, used across East Asia for thousands of years. Modern scientific research has demonstrated that it is effective in treating pain, regulating the nervous system and enhancing immunity.
How does acupuncture work?
Acupuncture involves the use of needles to stimulate nerve rich areas of the skin. This stimulation releases natural pain killing substances (endogenous opioids) and increases parasympathetic activity, the branch of the nervous system associated with rest, digestion, and tissue repair. Acupuncture also improves blood flow and reduces inflammation.

What does acupuncture treat?
Acupuncture has been shown to be effective in a wide range of conditions. After completing a series of treatments, most patients experience lasting relief and an improved quality of life.
Acupuncture Conditions We Treat
Who Performs Acupuncture?
Acupuncture at Memorial Healthcare System is performed by acupuncture physicians licensed by the State of Florida and nationally certified.
To qualify as an acupuncture physician, providers must undertake four year graduate programs at either the Masters or Doctoral level in Acupuncture and Traditional East Asian Medicine. These programs include thousands of hours of clinical and didactic training in acupuncture as well as botanical medicine, nutrition, anatomy, physiology, and pharmacology.
Amy Sear, AP, Dipl. OM (NCCAOM)
Acupuncture Physician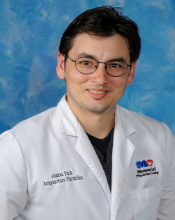 Joshua Park, DSOM, AP
Acupuncture Physician
Locations
Memorial Hospital West
601 N Flamingo Road, Suite 400
Pembroke Pines, FL 33028

Memorial Physician Group [Map]
3341 Johnson Street
Hollywood, FL 33021
Office Hours:
Monday-Friday: 9 am – 5 pm
Wednesday and Thursday: 11 am – 7 pm
Saturday: 9 am – 5 pm