Antimicrobial Stewardship Program
Memorial Healthcare System's Antimicrobial Stewardship Program (ASP) promotes the appropriate utilization of antimicrobial medications. Our mission is to reduce antimicrobial resistance, decrease adverse effects associated with antibiotic use and increase the efficiency with which we care for our patients.
Our infection control and ASP activities are guided by the Centers for Disease Control and Prevention's (CDC) Core Elements of Antimicrobial Stewardship:
Hospital leadership commitment
Accountability
Pharmacy expertise
Action tracking
Reporting
Education
Memorial's executive leaders support an active Antimicrobial/Antibiotic Stewardship Program (ASP) as an organizational priority. We promote antimicrobial stewardship across our diverse workplace through committees.
Our ASP Leadership Steering Committee and ASP System Committee generate systemwide ideas and implement initiatives. Each Memorial hospital also has its own ASP committee that explores unique ASP opportunities for its site.
Appointed hospital leaders oversee their facility's ASP work. Annually, each ASP identifies site-specific benchmarks and metrics to evaluate the effectiveness of their facility's activity. The outcomes and subsequent reports offer insights about areas for our continued improvement.
We regularly review our performance on an individual facility and aggregate basis. This ongoing self-reflection enables us to continually evolve and expand our multidisciplinary participation to decrease antimicrobial resistance threats.
Meet Our Infection Prevention and ASP Team
Memorial's ASP Leadership Steering Committee comprises physicians, pharmacists, nurses, microbiologists and infection preventionists. These professionals all share a passion for safe and appropriate infectious disease treatments.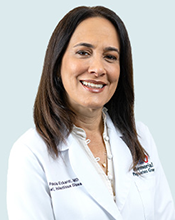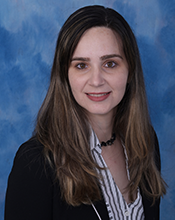 Deborah Fernandez, PharmD, BCPS, BCIDP
Pharmacy Clinical Coordinator, Infectious Disease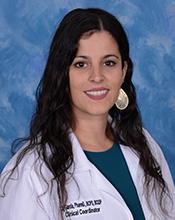 Esther (Lily) Garcia
Infectious Diseases Clinical Pharmacy Coordinator
Memorial Hospital West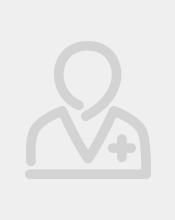 Juan Carlos Rodriguez, PharmD, BCPPS
Clinical Manager, Pharmacy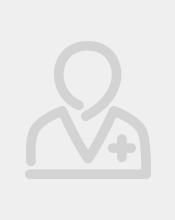 Natasha Romero, PharmD, BCCCP, BCPS
Clinical Manager, Pharmacy
Memorial Regional Hospital South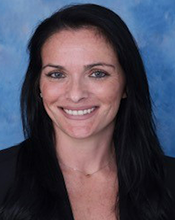 Natalie Zilban, PharmD, MPH
Medication Safety and Pharmacy Officer
Learn About Our Infection Prevention and ASP Processes and Protocols
Our pharmacists attend patient rounds in many of our facilities. Participating in rounds enables them to collaborate with the infectious disease team and make decisions for patient therapeutic management.
Along with site-specific initiatives, Memorial has adopted systemwide ASP processes and protocols designed to support our mission. They include:
Monitoring and Reporting
Memorial Healthcare System monitors and reports our ASP performance using various metrics and benchmarking tools, such as:
Patient Education
When patients are admitted to our hospitals, our pharmacists review and reconcile their medications, often meeting with them in person. At discharge, all patients receive printed education materials about their medications. Memorial facilities also have a transition of care.
Antimicrobial Stewardship Training Programs
Memorial has two antimicrobial stewardship training programs: an Infectious Disease Fellowship and a Pharmacy Residency program.
Infectious Disease Fellowship
We offer a two-year fellowship for physicians who want to specialize in infectious diseases.
Pharmacy Residency Program
Our PGY2 Pharmacy Residency Program trains pharmacists to become infectious disease pharmacists. It is a one-year specialty program.
Infectious Disease Education
All Memorial employees and practitioners who order, dispense and administer antimicrobials are educated about our ASP practices upon hire and on an ongoing basis.
Our ASP committee distributes a quarterly systemwide infectious disease newsletter. These educational pieces offer up-to-date information on appropriate antimicrobial therapy for prescribers and pharmacy employees.
ASP Outpatient Services
Memorial Primary Care
Retrospective review of orders prescribed from providers
Assess prescriptions for therapy appropriateness
Smart Set development and maintenance
Academic detailing
Pharyngitis review
Memorial Physician group – Infectious Disease
HIV/AIDS Clinic
Hepatitis Clinic
NTM/MAC Lung Disease
MPOX Prevention and Treatment
Immunizations
Transplant Infections
OPAT in collaboration with Home Infusion
Community Pharmacy
Outpatient vaccine administration
Memorial Employees/Pharmacists
Sign in to our intranet to access:
Order sets
Treatment guidelines
Antimicrobial guidance book