Aiysha Balbosa, DO
Pediatric ENT (Ear, Nose & Throat), Pediatric Otolaryngology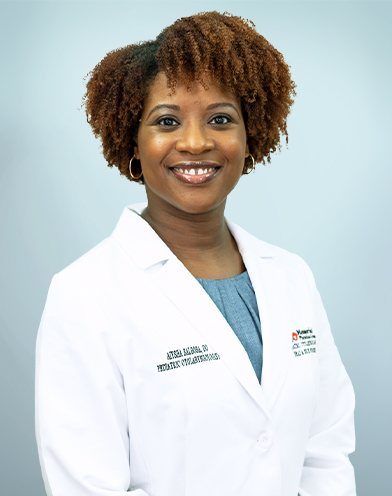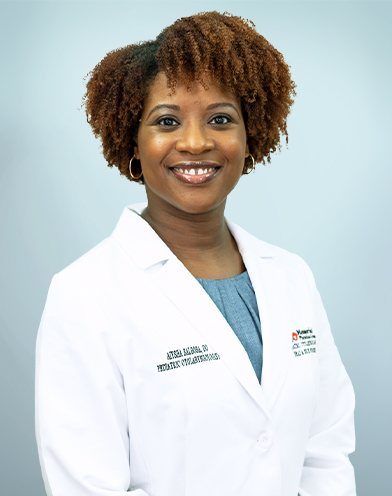 Memorial Division of Pediatric Otolaryngology
3377 South State Road 7 Suite 100
Wellington, FL 33449
561-341-7055
Memorial Division of Pediatric Otolaryngology
5830 Coral Ridge Drive Suite 140
Coral Springs, FL 33076
954-265-1615
About Me
Medical Director, Pediatric Otolaryngology, Joe DiMaggio Children's Health Specialty Center – Wellington
I am a pediatric otolaryngologist at Joe DiMaggio Children's Hospital and the medical director of the new Pediatric ENT program in Wellington, serving the Palm Beach community. I treat children with a variety of ear nose and throat conditions, including chronic ear infections, hearing loss, tonsil and adenoid disease, congenital syndromes, noisy breathing, voice disorders and sinus disease.
I knew I wanted to be a doctor at a very young age, and was inspired by my uncle, who is a neonatologist. I enjoy working with children and their families, and having the ability to make a difference in their health and lives through medical care and surgery.
In addition to providing patient care, I'm also actively involved in teaching medical students and young doctors as they embark on their careers in medicine.
Before joining Memorial, I developed the department of Pediatric Otolaryngology for Driscoll Children's Hospital in Corpus Christi, Texas, as part of Children's Physician Services of South Texas.
I was also very active in the community in Texas. I volunteered and served on the board of two local non-profit organizations: Special Hearts in the Arts, which helped individuals with special needs explore the arts; and Kids Get Fit, which targeted the problem of childhood obesity through nutrition, mindfulness and physical activity programs.
Now, at Joe DiMaggio, I'm proud to be a part of a team devoted to caring for children in the Broward and Palm Beach community.
Related Medical Services
Hospital Affiliations
Gender
Languages
Education
Education
New York College Of Osteopathic Medicine, 2006
Residency
Henry Ford Macomb Hospital - Warren, 2011, Otolaryngology/Head and Neck Surgery
Fellowships
Baylor College Of Medicine Program, 2012, Pediatric Otolaryngology/Head and Neck Surgery
Certifications
American Osteopathic Board of Ophthalmology and Otolaryngology-Head and Neck Surgery-Otolaryngology/Head and Neck Surgery
Awards, Achievements, and More
Research
Past research projects include:
Evaluation of Comprehensive, Community Based Wellness Program for Children in Corpus Christi, TX


2001-02: Case Western Reserve University, Cleveland, OH



The role of reproductive toxins in the induction of cervical tumors in animal models
TGF-beta-mediated cell cycle arrest of HPV16-immortalized human ectocervical cells



Virginia Institute of Marine Science-The College of William and Mary, Gloucester Point, VA
Effect of site location and parasite load on the condition index and lipid content of the Eastern Oyster, Crassostrea virginica
Professional Organizations
American Osteopathic College of Otolaryngology/HNS
American Academy of Otolaryngology-Head and Neck Surgery
American Academy of Otolaryngic Allergy
American Osteopathic Association
Presentations
Evaluation of Comprehensive, Community Based Wellness Program for Children in Corpus Christi, TX (Poster) Carbonell FM, Roberts J, Balbosa AC. American Academy of Pediatrics-Chicago, IL
Management of Subglottic Hemangiomas in Children, Review of the Literature (Poster) Balbosa AC. American Osteopathic College of Otolaryngology-Head and Neck Surgery-Tucson, AR
Review of the Use of Balloon Sinuplasty in Pediatric Patients (Poster) Balbosa AC. American Osteopathic College of Otolaryngology-Head and Neck Surgery-Orlando, FL
Otologic Presentations of Wegener's Granulomatosis (Poster) Balbosa AC. American Osteopathic College of Otolaryngology-Head and Neck Surgery-Lost Pines, TX
Chondroid Syringoma of the Neck (Poster) Balbosa AC. American Osteopathic College of Otolaryngology-Head and Neck Surgery- Chicago, IL