Sarah Pastoriza, DO
Physical Medicine and Rehabilitation, Interventional Pain Medicine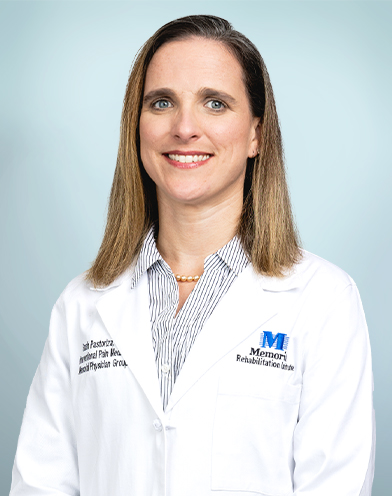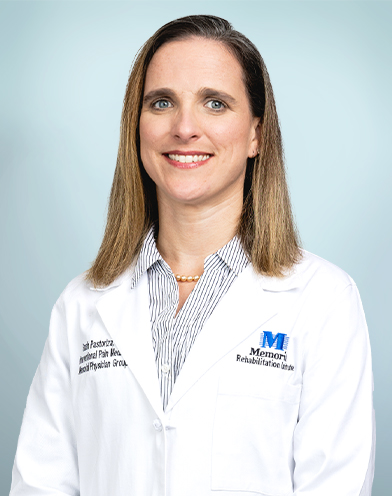 Memorial Division of Physical Medicine and Rehabilitation
3702 Washington Street Suite 303
Hollywood, FL 33021
954-981-3476
Memorial Division of Physical Medicine and Rehabilitation
601 North Flamingo Road Suite 206
Pembroke Pines, FL 33028
954-981-3476
About Me
I am a physiatrist and interventional pain specialist at Memorial Healthcare System. I care for patients with chronic pain and musculoskeletal concerns. If I can visualize it with an X-ray or ultrasound, I am able to treat it. I perform diagnostic ultrasounds for point of care and immediate diagnosis and offer injections everywhere in the body.

I am double board certified in physical medicine and rehabilitation and pain medicine. I also completed a second fellowship in interventional orthobiologics, which is a new specialty in medicine that is emerging to help decrease surgeries for certain conditions that are related to sports injuries, arthritis and trauma. Regenerative medicine (also known as interventional orthobiologics) is a passion of mine and I love researching innovative ways to help treat chronic spine, nerve pain and peripheral joint pain.

I chose a career in medicine to help people suffering from pain and injuries after I experienced a shoulder injury as a javelin thrower at the University of Florida. Despite surgery, I was unable to return to the sport. I decided to go into a field where I could develop treatments without surgery to help people heal and return to their full functional capacity by utilizing their body's own healing capabilities.

At Memorial, I enjoy building relationships with my patients and helping them to be as functional as possible. I pride myself on being a good listener and try to construct treatment plans around their personal goals.

I love when people come back for a follow-up and share improvements in how they are feeling, functioning and living. It's a privilege and honor to help patients reach their goals — no matter how big or small. Every success is worth it.

Before joining Memorial, I was the associate program director for the division of PM&R at University Hospitals Cleveland and was named a Top Doctor by Cleveland Magazine two years in a row. I am a native of South Florida and am looking forward to bringing what I have to offer to my community.
Hospital Affiliations
Gender
Education
Education
Lake Erie College Of Osteopathic Medicine, 2014
Internships
Kendall Regional Medical Center, 2015, Surgery
Residency
MetroHealth Medical Center, 2018, Physical Medicine and Rehabilitation
Fellowships
Centeno-Schultz Clinic, 2020, Interventional Pain Medicine
University of Alabama at Birmingham, 2019, Pain Medicine
Certifications
American Board of Physical Medicine and Rehabilitation-Pain Medicine
American Board of Physical Medicine and Rehabilitation-Physical Medicine & Rehabilitation
Awards, Achievements, and More
Professional Organizations
Interventional Orthobiologics Foundation (IOF)
American Academy of Physical Medicine and Rehabilitation (AAPM&R)
American Osteopathic Association (AOA)
Presentations
Grand Rounds – MetroHealth Medical Center, Department of Physical Medicine and Rehabilitation. "Regenerative Medicine with focus on Mesenchymal Stem Cells (MSCs) in musculoskeletal medicine". September 2017


American Spinal Injury Association (ASIA), Albuquerque, NM. "Effect of Peak Interface Pressures on a 3rd Proof of Concept Spine Board Modification". April 2017


Grand Rounds – University of Miami Miller School of Medicine, Orthopedic Residency Program. "Defining Loading and Moments on Joints in Crutch Ambulation: A biomechanical study". September 2014
Awards
Top Doctor, Cleveland Magazine, 2021 and 2022
Recognition from University Hospital for Commitment to Value and Advancing Systemness, 2021
Administrative Chief Resident, 2017-18
Best Surgical Intern of the Year, 2014-15