Andrew Migliaccio, MD
Psychiatry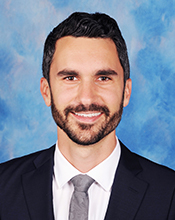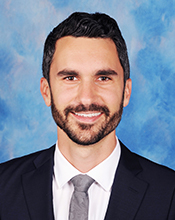 Memorial Outpatient Behavioral Health Center
5595 South University Drive
Davie, FL 33328
954-965-6444
About Me
Medical Director, Psychiatry Outpatient Program
I am an outpatient psychiatrist at Memorial Healthcare System. I care for patients with a variety of mental health conditions including mood disorders (such as depression or bipolar disorder), anxiety disorders, schizophrenia, posttraumatic stress, trauma, substance use disorders, and other challenges adjusting to life changes or social stressors.

I was inspired to go to medical school due to my fascination with human behavior and biology, and also my belief that behavior can be positively influenced through a strong therapeutic partnership between a doctor and patient. I became a psychiatrist partly because it is one of the only professions in medicine where that relationship remains indispensable to the process of healing.

When meeting a new patient, my first priority is to establish a strong working relationship and to understand that person's story, struggles and strengths. I want to look beyond the clinical diagnosis and medications that may ease symptoms, and help patients learn and adopt new concepts and skills so they feel empowered to create positive change in their lives.

I also support my patients in adopting lifestyle interventions, which can include healthier nutrition, physical activity, relaxation strategies and positive social connections.

My goal is to inspire hope and help people find their way to healing, recovery and transformation. I love seeing people learn about themselves, develop new strategies and achieve their goals.
Hospital Affiliations
Gender
Languages
Education
Education
University Of Pennsylvania School Of Medicine, 2013
Internships
University Of Pennsylvania, 2014, Psychiatry
Residency
University Of Pennsylvania, 2017, Psychiatry
Fellowships
University Of Pennsylvania, 2018, Psychiatry
Certifications
American Board of Psychiatry and Neurology-Psychiatry
Awards, Achievements, and More
Professional Organizations
American Psychiatric Association
Florida Psychiatric Society
American Association of Community Psychiatrists
Presentations
American Psychiatric Association Annual Meeting, Toronto, Canada. "Case Report of Delayed Postanoxic Leukoencephalopathy Presenting with Psychiatric Symptoms." 2015
Bridging the Gaps Community Health Symposium, Philadelphia, PA. : "Strengthening Community Engagement: Evaluating Barriers to Care at Philadelphia FIGHT." 2010
Awards
Chief Resident of Inpatient Psychiatry, Hospital of the University of Pennsylvania, Pennsylvania Hospital, and the Philadelphia VA Medical Center, 2016-17
Dr. Henry P. and M. Page Durkee Laughlin Foundation Award, University of Pennsylvania Department of Psychiatry, 2017
J. Wayne Reitz Medal of Excellence Award, University of Florida College of Agricultural and Life Sciences, 2009
E.T. York, Jr. Medal of Excellence Award, University of Florida College of Agricultural and Life Sciences, 2008