Mahalakshmi Krishnamoorthy, MD
Internal Medicine, Hospitalist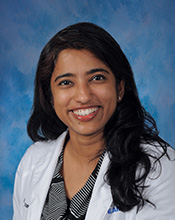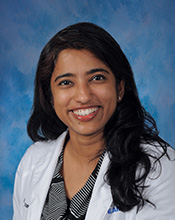 Team Health Hospitalist Division
703 North Flamingo Road Suite 1-400
Pembroke Pines, FL 33028
954-844-1310
About Me
Dr. Mahalakshmi Krishnamoorthy is a hospitalist at Memorial Healthcare System. She earned her medical degree in 2015 from the Canton Medical Education Foundation in Ohio. She completed a residency in internal medicine at Canton Medical Education Foundation and Northeast Ohio University.
Dr. Krishnamoorthy also participated in sub-internships at Exempla St. Joseph Hospital in Denver, Colorado, and was a research affiliate for the department of medicine at National Jewish Health, also in Denver.
Before joining Memorial, Dr. Krishnamoorthy was a hospitalist at Jackson Memorial Hospital in Miami and JFK Medical Center in Atlantis, Florida.
Hospital Affiliations
Gender
Languages
Education
Education
Mohan Kumaramangalam Medical College, 2005
Residency
Canton Medical Education Foundation, 2015, Internal Medicine
Fellowships
Certifications
American Board of Internal Medicine-Internal Medicine
Awards, Achievements, and More
Professional Organizations
American College of Physician
Presentations
In the blink of an eye- Coronary spasm presenting as ST elevations and complete heart block Date: May 2013 Presentation: Poster presentation at Northeast Ohio University Research Day, Ohio
Readmission Risk- Predict and Prevent Date: May 2014 Presentation: Oral presentation at Northeast Ohio University Research Day, Ohio
A case of MIDCAB misery Date: April 2014 Presentation: Poster Presentation National ACP
Read mission Risk Score: Reduce healthcare cost and Improve Patient Care Date: June 2014, 05/2014 Presentation: Poster Presentation at AAMC-Association of American Medical Colleges- Integrating Quality Meeting
Crohn's Disease – How sure is sure? Date: May 2014 Presentation: Poster presentation at Northeast Ohio University Research Day, Ohio
Cardiac Papillary Fibroelastoma: A ' Must Not Miss' Diagnosis Date: May 2014 Presentation: Poster presentation at Northeast Ohio University Research Day, Ohio
Renal artery stenting in dialysis patients – a controversy that is still controversial? Date: October 2014 Presentation: Poster presentation at ACP, Ohio
Crohn's Disease – How sure is sure? Date: October 2014 Presentation: Poster presentation at American College of Gastroenterology, Pennsylvania
Double Jeopardy in Cath Lab: Acute ST Elevation Myocardial Infarction during labor Date: March 2015 Presentation: Poster presentation at American College of Cardiology, California
Awards
Aultman Hospital Honorarium Award, 2014
Excellence in Teaching Award, 2015
Excellence in Research Award, 2015