Public Reporting
ACO Name and Location
Broward Guardian, LLC
3109 Stirling Road, Suite 101
Hollywood, Florida 33312
ACO Primary Contact
Richard Ashenoff, II
Executive Director
rashenoff@mhs.net
954-265-6674
Organizational Information
| ACO Participants | ACO Participant in Joint Venture |
| --- | --- |
| Alexandra Da Rocha Hensly, MD, PLLC | N |
| Bahta and Associates, Inc. | N |
| Banu Medical Practice PA | N |
| Barry C. Pevner, MD, PA | N |
| Beth and Howard Braver, MD, PA | N |
| Brigitte A. Semexant, DO, PA | N |
| Calzada Primary Care, PA | N |
| Cardiac & Veinworx, LLC | N |
| Care For Your Medical Center Margate, LLC | N |
| Cleopatra Gordon Pusey, MD, PA | |
| Comprehensive Cardiology Associates, LLC | N |
| Comprehensive Health & Wellness Center, PA | N |
| Darius Figueras, MD, PA | N |
| Delcin Health Center | N |
| Dov S. Linzer, MD, LLC | N |
| Eisman & Eisman, MD, PA | N |
| Emilio Pando, MD, PA | N |
| Evergreen Medical Center, PA | N |
| Family Medical Center of Hollywood, PA | N |
| Family Practice of Davie, Inc. | N |
| Healthstone Primary Care Partners, LLC | N |
| Hector Fabregas, MD, PA | N |
| Howard M. Graubard, MD, PA | N |
| Internal Medicine Specialty Associates, PA | N |
| Isaac Medical Group | N |
| J&J Comprehensive Medical Care, LLC | N |
| Jeffrey Rothstein, DO, PA | N |
| Joshua Z. Steiner, DO, PA | N |
| Juan Carlos Rondon, MD, PA | N |
| Leonard J. Hoenig, MD, PA | N |
| Leslie Shawn, DO, PA | N |
| Medical Center International, Inc. | N |
| My Family Physicians, Inc. | N |
| Nancy Pyram-Bernard, DO, LLC Lice Source Services | N |
| North Broward Hospital District | N |
| Prangnuan Durand, DO, PA | N |
| Reyes Reyes, PA | N |
| RGPMD, LLC | N |
| Saad Mirza, MD, PA | N |
| Safecare Medical Center, Inc. | N |
| Seneca Healthcare & Wellness Center, LLC | N |
| Sole Health, LLC | N |
| South Broward Hospital District | N |
| Spiller Heart Institute, LLC | N |
| Steven R. Linzer, DO, PA | N |
| TPHT, Inc. | N |
| Thakur, MD, PA | N |
| Total Healthcare of South Florida, Inc. | N |
| Unihealth Primary Care, LLC | N |
| Van Buren Medical Center, Inc. | N |
| Vivian Bilasano, MD, LLC | N |
| Wayne H. Case, MD, PA | N |
| Wayne N. Evancho, DO, PA | N |
| Wellness Medical Clinic and Geriatric Center, Inc. | N |
| West Broward Internal Medicine, PLLC | N |
| West Ky Abrams, DO, PA | N |
| Yaneth Trujillo, MD, PA | N |
ACO Governing Body
Member
Member's Voting Power
Membership Type
ACO Participant TIN Legal Business Name/DBA, if Applicable
Last Name
First Name
Title/Position
Steiner, DO
Joshua
Board Chair
1 of 8
Voting Member
ACO Participant Representative – Joshua Z. Steiner, DO PA
Beaufort, MD
Je-Anne
Vice Chair
1 of 8
Voting Member
ACO Participant Representative – South Broward Hospital District
Case-Diaz, MD
Cheryl
Board Member
1 of 8
Voting Member
ACO Participant Representative – Wayne H. Case, MD, PA
Chiapone, MD
Ting
Board Member
1 of 8
Voting Member
ACO Participant Representative – Safecare Medical Center, Inc.
Macaluso, MD
Tom
Board Member
1 of 8
Voting Member
Chief Quality Officer, Memorial Healthcare System
Nguyen, MD
Nga
Board Member
1 of 8
Voting Member
ACO Participant Representative – South Broward Hospital District
Ramsaran, MD
Chris
Board Member
1 of 8
Voting Member
ACO Participant Representative – South Broward Hospital District
Reydel
Margaret
Board Member
1 of 8
Voting Member
ACO Beneficiary Representative
Key ACO Clinical and Administrative Leadership
Richard Ashenoff II
ACO Executive
Dr. Daniel Edelman
Medical Director
Denise Dicesare
Compliance Officer
Dr. Daniel Edelman
Quality Assurance/Improvement Officer
Associated Committees and Committee Leadership
Committee Name
Committee Leader Name and Position
Quality and Information Technology Committee
Dr. Daniel Edelman, Chair
Terri Thompson, Co-Chair
Types of ACO Participants, or Combinations of Participants that Formed the ACO
Networks of individual practices of ACO professionals
Partnerships or joint venture arrangements between hospitals and ACO professionals
Shared Savings and Losses
Amount of Shared Savings/Losses
Third Agreement Period
Performance Year 2022, $6,247,904
Second Agreement Period
Performance Year 2021, $8,146,899
Performance Year 2020, $5,938,258
Performance Year 2019, $6,241,418
Performance Year 2018, $3,129,467
Performance Year 2017, $3,729,517
First Agreement Period
Performance Year 2016, $3,115,928
Performance Year 2015, $5,220,484
Performance Year 2014, $0
Shared Savings Distribution
Third Agreement Period
Performance Year 2022

Proportion invested in infrastructure: 25%
Proportion invested in redesigned care processes/resources: 10%
Proportion of distribution to ACO participants: 65%
Second Agreement Period
Performance Year 2021

Proportion invested in infrastructure: 25%
Proportion invested in redesigned care processes/resources: 10%
Proportion of distribution to ACO participants: 65%

Performance Year 2020

Proportion invested in infrastructure: 22%
Proportion invested in redesigned care processes/resources: 10%
Proportion of distribution to ACO participants: 68%

Performance Year 2019

Proportion invested in infrastructure: 35%
Proportion invested in redesigned care processes/resources: 0%
Proportion of distribution to ACO participants: 65%

Performance Year 2018

Proportion invested in infrastructure: 35%
Proportion invested in redesigned care processes/resources: 0%
Proportion of distribution to ACO participants: 65%

Performance Year 2017

Proportion invested in infrastructure: 35%
Proportion invested in redesigned care processes/resources: 0%
Proportion of distribution to ACO participants: 65%
First Agreement Period
Performance Year 2016

Proportion invested in infrastructure: 35%
Proportion invested in redesigned care processes/resources: 0%
Proportion of distribution to ACO participants: 65%

Performance Year 2015

Proportion invested in infrastructure: 35%
Proportion invested in redesigned care processes/resources: 0%
Proportion of distribution to ACO participants: 65%

Performance Year 2014

Proportion invested in infrastructure: 0%
Proportion invested in redesigned care processes/resources: 0%
Proportion of distribution to ACO participants: 0%
Quality Performance Results
2022 Quality Performance Results
| ACO# | Measure Name | Rate | ACO Mean |
| --- | --- | --- | --- |
| ACO-001 | Diabetes: Hemoglobin A1c (HbA1c) Poor Control1 | 18.39 | 10.71 |
| ACO-134 | Preventative Care and Screening: Screening for Depression and Follow-up Plan | 88.09 | 76.97 |
| ACO-236 | Controlling High Blood Pressure | 86.61 | 76.16 |
| ACO-318 | Falls: Screening for Future Fall Risk | 87.58 | 87.83 |
| ACO-110 | Preventative Care and Screening: Influenza Immunization | 66.98 | 77.34 |
| ACO-226 | Preventative Care and Screening: Tobacco Use: Screening and Cessation Intervention | 80.00 | 79.27 |
| ACO-113 | Colorectal Cancer Screening | 60.78 | 75.32 |
| ACO-112 | Controlling High Blood Pressure | 72.61 | 75.11 |
| ACO-438 | Statin Therapy for the Prevention and Treatment of Cardiovascular Disease | 86.68 | 84.24 |
| ACO-370 | Depression Remission at Twelve Months | 27.50 | 15.50 |
| ACO-321 | CAHPS for MIPS3 | N/A | N/A |
| ACO-479 | Hospital-Wide, 30-Day, All-Cause Unplanned Readmission (HWR) Rate for MIPS Groups2 | 0.1653 | 0.1510 |
| ACO-484 | All-Cause Unplanned Admissions for Patients with Multiple Chronic Conditions for ACOs (MCC)2 | 34.61 | 30.97 |
For Previous Years' Financial and Quality Performance Results, please visit data.cms.gov.
Please note, the ACO-40 Depression Remission at 12 months quality measure is not included in public reporting due to low sample size. The Centers for Medicare & Medicaid Services (CMS) also waived the requirement for ACOs to field a CAHPS for ACOs survey for PY 2020 through the Physician Fee Schedule Final Rule for Calendar Year 2021. Additionally, CMS reverted ACO-8 Risk-Standardized, All Condition Readmission and ACO-38 Risk-Standardized Acute Admission Rates for Patients with Multiple Chronic Conditions to pay-for-reporting, given the impact of the coronavirus disease 2019 (COVID-19) public health emergency (PHE) on these measures.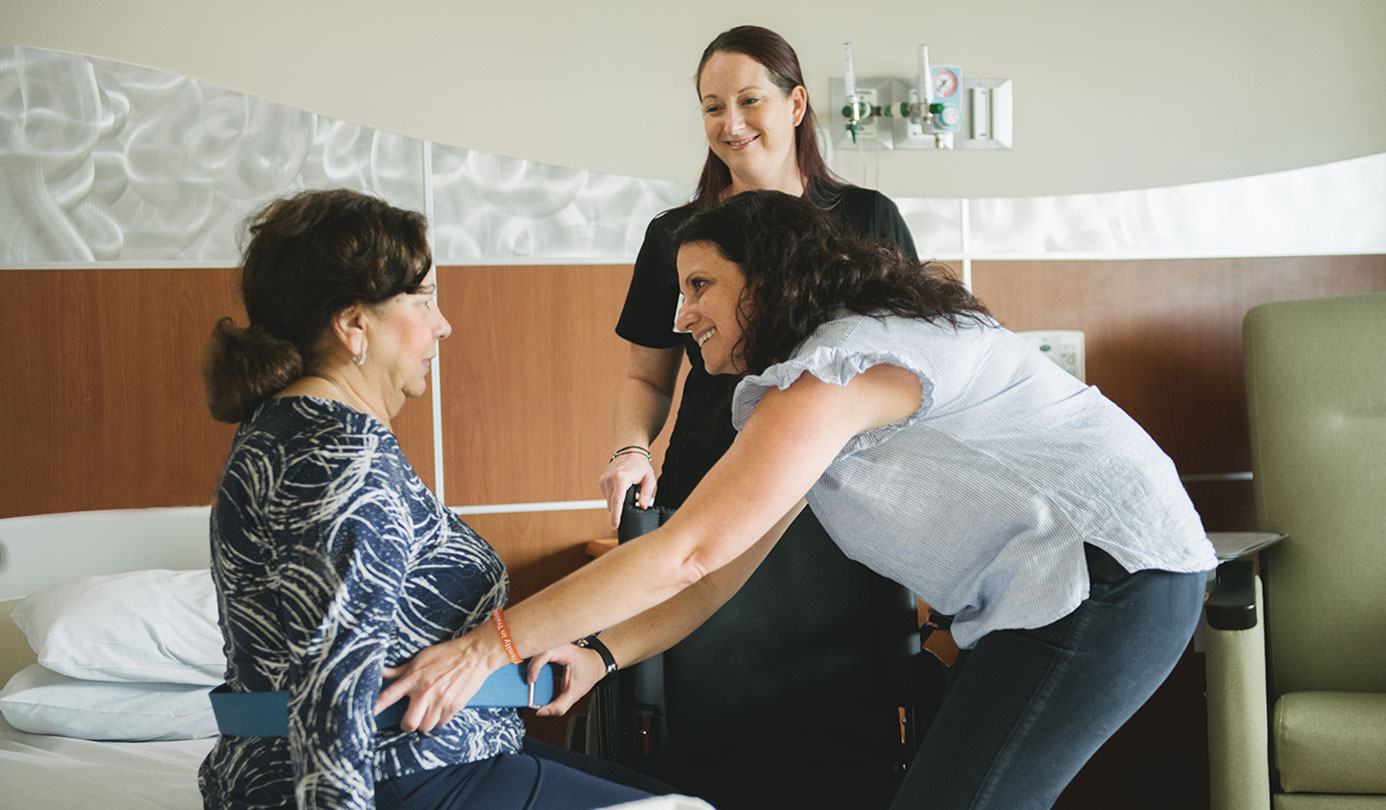 Patient and Family Centered Care
We treat patients and family members as partners in healthcare.
It matters to you. It matters to us.
Quality and Safety Data for Memorial Healthcare System
Our goal is to provide our patients with the information they need to make informed choices for themselves and their families.
View Quality and Safety
You have a Right to Know About Prices
We want to give you the information you need to make important healthcare decisions, including the costs of our services.
View Pricing
Take charge of your health and see what sets our care apart