Michael Rivera, DPM
Podiatry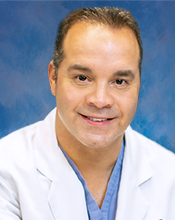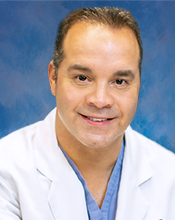 Michael A Rivera, DPM
601 N Flamingo Rd Suite 414
Pembroke Pines, FL 33028
954-392-5990
About Me
Michael A. Rivera, MD, DPM, FACFAS, is a board-certified foot and ankle surgeon with more than 28 years of clinical, medical and surgical experience. He is one of the founding partners of Florida Foot & Ankle Associates, LLC, and assistant surgical professor for the podiatric foot and ankle surgical residency program at Memorial Hospital West.
As an educator, consultant, business owner, philanthropist, and father, Dr. Rivera understands the unique needs and concerns of his patients and colleagues. His mission is to provide compassionate, ethical, comprehensive, efficient quality foot and ankle care with an edge on using the latest technological advances in foot and ankle surgery and sports medicine.
Dr. Rivera offers the latest advanced technology to solve pain including minimally invasive Arthroscopic and Endoscopic surgery of the foot and ankle, the latest laser technology for the treatment of skin and nail diseases. He also specializes in cartilage restoration and repair, pediatric congenital deformities, sports related injuries and more. Dr. Rivera believes in a collaborative team effort to utilize innovative technologies and treatments for lasting solutions.
He is an active lecturer, didactic surgical workshop instructor and accomplished author. He has contributed to developing technology that is currently used in foot and ankle surgery. He is also a Diplomat of the American Board of Foot and Ankle Surgeons and a Fellow of the American College of Foot & Ankle Surgeons.
Dr. Rivera has been practicing in South Florida for more than 25 years. He spent 20 years at Mercy Hospital where he was an adjunct surgical professor for the Mercy/Barry University Podiatric Residency program. He was also the Division Chief of Podiatric Medicine and Surgery at Mercy Hospital for six years and is a founding ambassador of the Mercy Hospital Foundation. He also served as the president of the Miami-Dade County Podiatric Medical Association for four years.
Hospital Affiliations
Gender
Languages
Education
Education
New York College Of Podiatric Medicine, 1993, Podiatry
Internships
New York College Of Podiatric Medicine, 1994, Podiatry
Residency
St Barnabas Hospital, 1995, Podiatry
Fellowships
St Barnabas Hospital, 1995, Reconstructive Rearfoot and Ankle Surgery
Certifications
American Board of Podiatric Medicine-Podiatry
Awards, Achievements, and More
Professional Organizations
•
American Board of Foot and Ankle Surgery
•
American College of Foot and Ankle Surgeons
•
Florida Podiatric Medical Association
•
American Podiatric Medical Association
•
Alma Mater – New York College of Podiatric Medicine
•
Broward County Podiatric Medical Association
Awards
•
Top Foot and Ankle Surgeons, Recognized by The Leading Physicians of the World (2012)
•
Top Foot and Ankle Surgeons, Consumer Research Council of America (2006)